Scandalous and Chaplin Announce Closing
After Struggling At The Box Office And Poor Audience Turn-Out, Two New Fall Musicals Announce Their Closing Dates: Scandalous And Chaplin
---
Broadway's Fall Musicals Announce Closing Dates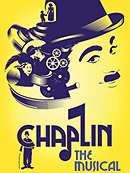 Two of the Broadway fall season's new musicals, Scandalous and Chaplin, have announced closing dates. Chaplin, the bio-musical about the life and career of silent film star Charlie Chaplin, is going to hold out through the holiday season before closing on January 6, 2013.
Scandalous: The Life and Trials of Aimee Semple McPherson, however, is only playing through the end of this week, concluding its run at the Neil Simon Theatre on December 9. Both shows struggled throughout their runs to find an audience, which is often a problem for original Broadway musicals.
Struggles In The Box Office
Of the two, Chaplin did better, which may have been due to a combination of fairly good reviews, the fact that the title character is a well-known figure, and the buzz surrounding star Rob McClure's performance.
With the backing of Kathie Lee Gifford, who co-wrote and regularly plugged the show on TV, Scandalous was expected to perform better. But the musical had a difficult time selling tickets. At its lowest point, the average paid admission for the week only amounted to $23.77.
Discount Broadway Tickets
---
---