"Saint Joan" Closes on Tony Awards Day
Saint Joan Closes on Broadway on June 10, 2018, the Same Day as the Tony Awards, in which Condola Rashad is Vying for the Award for Best Performance by a Leading Actress in a Play.
---
Condola Rashad Concludes Tony Nominated Run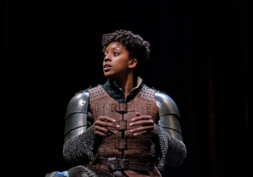 On Sunday, June 10, 2018, Saint Joan plays its final performance with a 2:00pm matinee. Immediately after, Condola Rashad and her team will be rushing off to get ready for the Tony Awards, which take place that evening. The show is nominated for just one award, and that is for Condola Rashad as her leading performance as the titular character Joan. Upon closing, the show will have played 55 performances on top of 24 preview performances. The show has been running in a Manhattan Theatre Club production at the Samuel J. Friedman Theatre.

Written by George Bernard Shaw, the play is directed by Daniel Sullivan, whose Broadway directorial credits include The Little Foxes, Glengarry Glen Ross, The Columnist and John Lithgow: Stories by Heart. The play has been revived on numerous occasions, and is always an excellent vehicle for an extraordinary actress to embody the 15th century French military figure also known as Joan of Arc (or Jeanne D'Arc). The Broadway premiere was in 1923, starring Winifred Lenihan as Saint Joan, followed by the London premiere in 1924 starring Sybil Thorndike, whom Shaw had in mind when writing the play.

Other Notable Productions
Further Broadway productions included 1936 starring Katharine Cornell, 1951 starring Uta Hagen, 1956 starring Siobhán McKenna, 1968 starring Diana Sands, 1977 starring Lynn Redgrave, and 1993 starring Maryann Plunkett. Now, 25 years since the last production, Condola Rashad takes on the role, following her previous Broadway credits: Stick Fly, The Trip to Bountiful, Romeo and Juliet, and A Doll's House, Part 2.
Mixed Reviews and a Struggle at the Box Office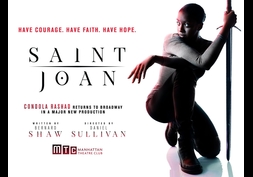 The New York Times complimented Condola Rashad's "usual intelligence and unfussy theatricality," but stated that the "blank quality in Ms. Rashad's Joan leaches the play of drama." Variety was a bigger fan, calling the production "a smart, stylish and engaging Broadway revival," but the Hollywood Reporter disagreed: "Even when done well, Bernard Shaw's Saint Joan is a slog." Entertainment Weekly called Rashad's performance "girlish" and the revival "glossy," and NY1 said that, on the surface, the revival is timely, but that "the production falls a bit short."

With these mixed reviews, the show had an even tougher time selling tickets. The show has brought in an average of 30.49% of its gross potential. With a top ticket price of $199.00, the average paid admission across the run thus far has been $50.48, and the audience has been filled up to an average of 81.03% of capacity. In the week ending June 3, Saint Joan brought in $214,730, which represents 29.36% of gross potential. The show will surely close at a financial loss, with the one last hope of legacy being Condola Rashad's pending Tony nomination.

Discount Broadway Tickets
---
---