Roundabout Production of "Old Times" Concludes Its Run
Old Times by Harold Pinter has concluded its run at Broadway's American Airlines Theatre starring Clive Owen in a Roundabout Theatre Company production.
---
Clive Owen Made a Well Regarded Broadway Debut in Pinter Play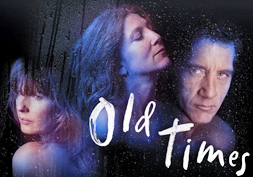 Old Times
at the Roundabout Theatre Company's American Airlines Theatre has concludes performances in its first Broadway revival. The original production premiered in 1971 through 1972, shortly following the play's premiere in London at the Aldwych Theatre in June 1971. Pinter is one of the top regarded playwrights to have emerged in the English speaking world in the last century; he is a Nobel Prize Laureate, and a West End theatre was recently renamed in his honor. Since 1961, Pinter has had a total of 20 productions on Broadway, and countless more in the West End and around the world. His most recent revival,
Old Times
, has just concluded a moderately successful run. Directed by Douglas Hodge, also an actor who has appeared in
Cyrano de Bergerac
and
La Cage aux Folles
, this production was also notable in that it had music by Thom Yorke of the band Radiohead, and also that it was the Broadway debut for movie star Clive Owen. Alongside Owen, the two actresses Kelly Reilly and Eve Best made up a fascinating love triangle.
Throughout the Run, Box Office Just Better than Mediocre
In the last week of performances,
Old Times
brought in a weekly gross of $365,051 over the course of eight performances, which represented 57.97% of its gross potential. With a top ticket price of $139.00, the average paid admission was $73.84, and the average audience capacity was filled up to 83.5%. Throughout the run, the top earning week was the week ending October 18, 2015, when the show brought in $426,702, representing 67.76% of its gross potential. This was just under two weeks after the show's opening, when reviews had hit the presses and word of mouth had a bit of time to spread. However, it did not grow from there. The lowest weekly gross came in the week ending October 4, 2015, when the show brought in $344,384, or 54.69% of its gross potential. This was the week just prior to opening, when some of the performances offered many complimentary tickets to press for reviews. Nevertheless, the show was able to sustain itself for the intended 64 performances on top of 21 preview performances, mostly due to the built in subscriber base for the Roundabout Theatre Company.
A Trio of Accomplished Actors
Though Clive Owen is by the far the most well-known of the three actors who appeared onstage in
Old Times
, the two actresses are also quite accomplished. Eve Best has appeared on Broadway twice before, once in
The Homecoming
, also by Pinter, for which she received a Tony Award nomination, and again in
A Moon for the Misbegotten
by Eugene O'Neill, which also earned her a Tony Award nomination, as well as a win for the Drama Desk Award for Best Actress. Though this was also the Broadway debut for Kelly Reilly, she has been nominated twice for Olivier Awards, the British equivalent of the Tonys, for her performance in 2004 in
After Miss Julie
at the Donmar Warehouse, as well as in 2008, for her performance as Desdemona in
Othello
. Clive Owen, on the other hand, is best known for his screen work, as he has appeared in such films as
Closer
, which earned him a Golden Globe Award and an Academy Award nomination, as well as
The Knick
,
Sin City
,
Children of Men
, and
Inside Man
.
Discount Broadway Tickets
---
---