Rebecca Producers Still Planning For Broadway
It Has Been A Long Road For Rebecca To Make It To The Broadway Stage, But The Producers Aren't Giving Up Yet And Hope To Present It On Stage In 2013
---
"Rebecca" Producers Not Giving Up On Broadway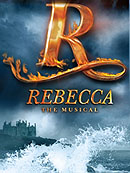 Few musicals have had as rocky a road to Broadway as Rebecca. The initial Broadway production was postponed in 2011, only to be delayed in 2012 and ultimately postponed again when funding fell through. A remarkable scandal ensued involving a phantom investor, making it seem that Rebecca was doomed to never secure the financing it needed to get to Broadway.
But the show's producers have now announced that despite the many obstacles they have encountered, they've not given up on bringing it to Broadway. Rebecca's lead producer, Ben Sprecher, says that he and the show's producers still have the rights to present it on Broadway in 2013, so they are hoping to finally get the show onstage before the end of the year.
The Added Publicity May Actually Help
The production's directors and designers are still attached, and there are plans to ask the previously announced performers back to the production. Though the drama surrounding the production may have seemed to put a black mark on it, Sprecher has said that in reality it gave them a great deal of publicity that helped to bring in more financing.
Based on the Daphne du Maurier novel of the same name, Rebecca is an eerie and mysterious romance about a young woman who marries a wealthy man with a secret past. It is widely known from the Alfred Hitchock film version starring Laurence Olivier and Joan Fontaine.