Put Down That Custard Pie Until You've Been Properly Trained
In Preparation For The 83rd Annual Macy's Thanksgiving Day Parade, The Clown U Program Held A Workshop For Want-To-Be Clowns
---
Clown Workshop For Thanksgiving Day Parade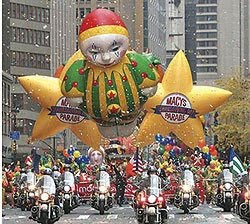 Being a clown takes more than sticking on a funny red nose--at least if you want to be one of the clowns in the Annual Macy's Thanksgiving Day Parade (and, we suspect, elsewhere as well.)
With New York's most famous parade looming at the end of next week, wanna-be clowns got a crash course this past weekend in, well, clowning around, from the masters themselves—professional clowns from The Big Apple Circus.
"Clown U" Program At Macy's
The "Clown U" Program (Well, what did you think it would be called?) was held in Macy's in preparation for the 83rd annual Thanksgiving Day Parade on November 26.
During the two-hour workshop, the volunteers learned pratfalls, sight gags, comedic timing, various silly tricks, and clown do's and don'ts. They report for duty at 6 AM on parade morning, rain or shine—in full clown regalia, of course.
850 Clowns Are Ready To March
Almost 850 clowns will march next week. They will divide into 25 different groups, ride uptown on the Clown Bus, gather at "Clown Corner," and get ready to chuckle. Some of the clown groups? Pirate Prankster Clowns; Malt Shop Clowns; Safari Clowns with Butterfly Kites; Half-Baked Holiday Sweet Clowns; and Silly Seaside Clowns.
Really, it doesn't get any better than that. All we can say is, that's a lot of banana peels. Check back here next week for details on the parade itself…