Post Tonys, "Six Degrees of Separation" Closes Early
The Revival Of John Guare's Play Six Degrees Of Separation Closed A Month Earlier Than Planned After It Brought Home No Awards At The Tonys.
---
Despite Positive Reviews, John Guare Broadway Play Closes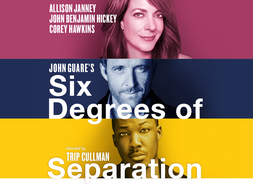 This season's revival of John Guare's play Six Degrees of Separation concluded performances this past week, a month earlier than planned. While the reviews were generally positive, word of mouth failed to spread to a sufficient degree, and the show never brought in even as much as 40% of its gross potential in any given week.
While Six Degrees of Separation was nominated for two Tony Awards, those for Best Revival of a Play, and Best Performance by an Actor in a Leading Role in a Play for Corey Hawkins, it won neither award – instead, those honors went to August Wilson's Jitney and Kevin Kline for Present Laughter, respectively.
Final Show On June 18th
Just two days after the June 11th Tony Awards ceremony, the producers of Six Degrees of Separation announced they would be closing the show the following week, on June 18, 2017. Following its first preview on April 5, 2017, the play officially opened on April 25, 2017, and was originally scheduled to close on July 16, 2017. However, in the shortened run, the play ran for a total of 84 performances, including previews.
Allison Janney, John Benjamin Hickey, And Corey Hawkins Starred
While the show resonated with both audiences and critics, the theatre was rarely more than 70% full, even with heavy discounting, and by the last five weeks the audience capacity was only filled up to 40-50% of its potential.
While the three main actors – Allison Janney, John Benjamin Hickey, and Corey Hawkins – were all beloved and well-reviewed, they are not Hollywood names on the level of, say, Bette Midler, whose Hello, Dolly! is reaping in great rewards from her star power at the box office.
Not Ready For A Revival
Even Sunset Boulevard, which starred megastar Glenn Close, was unable to attract audience members sufficiently to be a commercial hit. As for Six Degrees of Separation, the fact that it is a revival of a play from the early 1990s, which is not necessarily long enough ago to warrant a revival, is also not a major attraction at the box office.
While John Guare is a highly respected playwright, his work is not necessarily a good commercial bet on Broadway. For instance, the last revival of one of his plays – House of Blue Leaves in 2011 – did not fare well at the box office, either. That revival, too, was produced by Stuart Thompson.
Small Spike In Final Week Of Box Office
In the week ending June 18, 2017, the final week of performances for Six Degrees of Separation, the show brought in a weekly gross of $316,539, which represented 33.97% of its gross potential. With a top ticket price of $197.00, the average paid admission was just $70.44, and the audience was filled up to an average of 53.4% of capacity across the eight performances.
This weekly gross was an increase of $45,219 from the week before, and the percentage reached of gross potential increased by just over 4%. Nevertheless, these numbers prove that even with the clock ticking, ticketbuyers were not moved to choose Six Degrees of Separation among the options on Broadway.
No Rush Of Urgency From Theatre Goers
In contrast, when Indecent announced closing, audience members flocked to the theatre, causing box office to soar, and the producers to make the unusual move of retracting a closing notice. In the case of Six Degrees of Separation, however, there was no real urgency when the closing notice was posted, and the show closed less than a week after the announcement was made.