Peter and the Starcatcher Celebrates Movember
Posted on October 25, 2012
---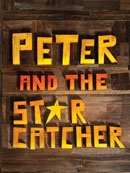 A behind-the-scenes team from Broadway's
Peter and the Starcatcher
is going to be helping raise both funds and awareness for men's health issues by taking part in "Movember", an annual event in which men spend the month of November growing out their mustaches (mo's, for short). The show decided to participate in honor of one of their main characters, Black Stache, the villainous pirate with a great black mustache. The actual cast of
Peter and the Starcatcher
can't participate because they have to be able to maintain a consistent onstage look, but several crew members and even the executive producers have made the committment to start out clean shaven on November 1 and then grow the biggest, most beautiful mustaches possible. The
Peter and the Starcatcher
team is also encouraging their fans and the general public to be "Mo Bros". Learn how you can both join and support the team here:
us.movember.com/team/547497
"Movember" was created as a way of raising awareness about health issues of concern to men, particularly prostate cancer and testicular cancer. People can register to participate at www.movember.com.