Orphans Concludes Broadway Run
Orphans Starring Ben Foster And Tom Sturridge Closes Early On Broadway Amidst Difficulties In The Press Surrounding Shia Lebeouf And Alec Baldwin
---
"Orphans" Closes Early On Broadway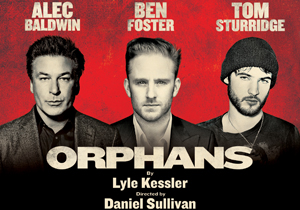 The new production of Lyle Kessler's play Orphans closes at the Gerald Schoenfeld Theatre today.
The play, which officially opened on April 18, ends its run early, having played only a total of 64 performances.
"Orphans" Storyline
Orphans starred Ben Foster and Tom Sturridge as orphaned brothers living in a decrepit North Philadelphia row house, with the elder brother supporting himself and his sheltered sibling by committing petty crimes.
When he tries to kidnap a rich business man (played by Alec Baldwin), both brothers are surprised to find themselves with a new father figure of sorts.
Struggles Early On
From early in its rehearsal process, Orphans was making headlines due to reported difficulties relating to the production's original star, popular movie actor Shia LeBeouf (Transformers). LeBeouf, who was let go from the production during rehearsals, publicized private email conversations that he had had with co-star Alec Baldwin and director Daniel Sullivan via his Twitter account.
The young actor was quickly replaced with Ben Foster, and the production's first preview was delayed a week. Though most of the press about Orphans centered around Alec Baldwin, Shia LeBeouf, and replacement Ben Foster (who has been active in independent film for several years), Tom Sturridge ended up being the play's breakout star, earning a Tony Award nomination for his performance.