"Oh, Hello" Begins Performances at the Lyceum Theatre
Nick Kroll And John Mulaney Are Gil Faizon And George St. Geegland At The Lyceum Theatre In Oh, Hello On Broadway, Running Until January 8, 2017
---
Nick Kroll And John Mulaney Reprise Famous Duo On Broadway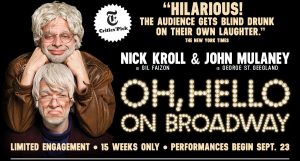 Oh, Hello on Broadway is up and running at the Lyceum Theatre, where the show will officially open on October 10, 2016. It will run for a limited engagement until January 8, 2017. Oh, Hello is a concept that has been around the block a few times, but this is the first time the comedic phenomenon has set up shop on Broadway.
The show is written and performed by the duo of comedians Nick Kroll and John Mulaney, who play two 70-somethings named Gil Faizon and George St. Geegland, respectively.
Kroll's Successful Film Career
Nick Kroll is best known for his show on Comedy Central, Kroll Show, as well as his role in the FXX comedy series The League, and for his roles in films such as Date Night, Adult Beginners, My Blind Brother, Get Him to the Greek, Sausage Party, and I Love You, Man. For his part, John Mulaney is best known for his years as a writer for Saturday Night Live, as well as the Fox television show Mulaney, which he created and starred in.
As for the show Oh, Hello, it first originated in the early 2000s, when Kroll and Mulaney began honing their characters at a regular gig at the Rififi, a New York comedy club that has since shuttered its doors. As the lore has it, Kroll and Mulaney first got the idea to develop these characters when they observed two septuagenarians in the Strand bookstore in Manhattan, each buying separate copies of the same book wearing turtlenecks and blazers. Thus the comedic inspiration began.
Two Upper West Siders With A Penchant For Turtlenecks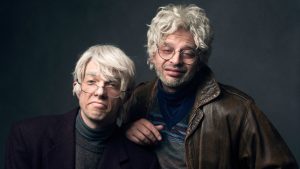 As the backstory goes, Gil Faizon (Nick Kroll) took his former wife's last name of Faizon, but is originally named Gil Cosby. He also has a son and stepson, who were recurring characters when their comedy sketches appeared on Kroll Show and beyond.
His catchphrase for introducing himself is, "Charmed I'm sure, Gil Faizon," he suffers from high cholesterol due to consuming too many bagels, and he often has side work in serving as a stand-in model for creamed foods such as mashed potatoes.
"Oh, Hello" Sells Out Audiences Across The Country
He met his counterpart, George St. Geegland (John Mulaney), when they were both in Toronto dodging the Vietnam War. Originally from Newark, New Jersey, the character of George is the more verbally abusive of the two, often yelling and making racist comments. He was a former professor of short story writing, and he has an unwritten novel about a boy who was fond of pleasing himself. After honing their characters at comedy clubs, the duo became renowned for their stints on Kroll Show as well as a series of viral videos.
As for the live stage version, prior to coming to Broadway, Oh, Hello played a sold-out run Off-Broadway last autumn, and has also played to sold-out audiences in Boston, San Diego, Washington, D.C., Chicago, San Francisco, and Los Angeles. The Broadway show is directed by Alex Timbers (Rocky, Bloody Bloody Andrew Jackson, Peter and the Starcatcher).
An Exciting Broadway Show, But Perhaps A Tough Sell
Although these comedians have a wide following on the comedy circuit, and their shows sold well across the country in smaller venues, Broadway is a different animal. Not only are the theatres often larger than in regional productions, but there is also a built-in audience for Broadway who expect to see musicals and dramas.
A straight comedy show, without a real internal narrative, may not appeal to the regular Broadway ticketbuyer, and other fans – except for the true diehards – might not know to look for this show on Broadway. In any case, the show is off to a moderate start at the box office.
High Hopes Positive Reviews Bring In More Audiences
In the first week of just three previews, the show brought in $247,237, which represents 85.69% of its gross potential. In the second week of seven performances, the enthusiasm wasn't quite as strong, with a collective gross of $396,561, representing just 61.35% of the gross potential. In any case, the reviews could spur more demand, and the holiday season may also bring a revitalized interest in the show.