Off-Broadway Musical "Daddy Long Legs" Given Live Simulcast
Daddy Long Legs Was Remarkably Simulcast In A Free Live Online Streaming Last Night, Which Is A Fresh And Innovative Approach To Marketing For the Vibrant Off-Broadway Theatre
---
Unprecedented Choice to Stream Theatrical Digital Content for Free
At 8:00pm on December 10, 2015, up to 150 people were able to see a live production of the Off-Broadway musical Daddy Long Legs at the Davenport Theatre in New York City's Midtown. At the same time, as many people as cared to were able to see the exact same production live, through a digital streaming made available on DaddyLongLegsMusical.com/Livestream. In addition to watching the content on a computer, casting devices such as Apple TV, Roku, and Chromecast allowed anyone with these capabilities to watch the show live on their home television set. Beyond this, the streaming was unlocked for posting on social media sites such as facebook, so that individuals could extend the reach of this show through their own posts.
According to the show's producer Ken Davenport, this is the first time that a Broadway or Off-Broadway production has been screened live online for free. Similar services have existed for a while, but the difference is that the content has never before been both live and free. For example, BroadwayHD is a company that only launched this past October, with the intent to become a Netflix for theater service. That model relies on aggregating a lot of content to provider subscribes with an attractive library; Daddy Long Legs will join this library following the free live streaming.
Digital Theatre's Success Shows Promising Growth for Broadway Digital Streaming
In Britain, a similar company called Digital Theatre has been around for six years, since which time it has reached consumers in 190 countries and amassed over 3.3 million viewers, 70% of whom are outside the United Kingdom, and many of whom are in America. Also, the success of NBC's live showings of large scale musicals - last week's The Wiz attracted over 11 million viewers in one night - bodes well for the growth of digital theatrical viewership.
A Free Marketing Tool for a Small Scale Musical on Broadway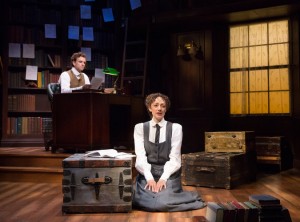 It is too early to say whether this decision was a smart idea or not, and whether it will actually help spur ticket sales. However, producer Ken Davenport believes that digital streaming is the biggest audience development tool that the theatre industry is not presently embracing. That is only natural, as live theatre has always depending upon the impact of a live performance. However, with the success of such innovations as National Theatre Live, whereby shows from the National Theatre in London are broadcast to movie theaters around the world, although not necessarily live, there does seem to be room for growth in terms of audience interest in digital content derived from live theatre.
Davenport said that he does not expect ticket sales to multiply overnight, but that it is a marketing event like any other, which he hopes will have a long-term impact on word of mouth. As the Davenport Theatre can only seat 150 people, word of mouth can only spread at a much slower rate than, say, Broadway shows, which can often accommodate 10,000 audience members in a week. Furthermore, the marketing budget for Off-Broadway shows is inherently much smaller than Broadway shows. Therefore, this could in fact be a relatively affordable way to tap into word of mouth for Off-Broadway, embracing present technological trends.
A Two-Hander Based on a 1912 Novel by Jean Webster
Daddy Long Legs is a musical starring just two actors that is based on the novel of the same name by Jean Webster, published in 1912. The show has a book by John Caird, who also directs the show, and music and lyrics by Paul Gordon. The actors, who have both performed on Broadway in the past, are Megan McGinnis (Side Show, Les Misérables, Little Women) and Adam Halpin (Glory Days). The production received fairly positive reviews when it opened on September 27, 2015, with Alexis Soloski from The New York Times calling it "sweet" and "beautifully sung."
The story deals with an orphan girl who assumes her benefactor is an older man. She therefore dubs him Daddy Long Legs, but he is actually a young man who falls in love with her through her enthusiastic letters. He eventually sweeps her off her feet, and it ends happily ever after; this is why Soloski also calls the show "proto-feminist" and "occasionally unsettling." Nevertheless, the play has the makings of an enjoyable night in the theatre – or as it happens, an enjoyable night lying on your own bed with your laptop, if you so choose.