Moulin Rouge Ditches Ticketmaster and Begins Ticket Sales on SeatGeek
Moulin Rouge Breaks Tradition and Ditches Ticketmaster - Begins Primary Ticket Sales on SeatGeek.com
---
Moulin Rouge Opens Ticket Sales Today on SeatGeek.com - Ditches Ticketmaster
Unprecedented Shift By Jujamcyn Theatre Group Puts Seatgeek.com as New Primary Ticket Source
The Jujamcyn Theatre Group has followed through with their plans to put one of their shows onto a new ticket service. Moulin Rouge has begun selling tickets for the scheduled Broadway reopening on September 24, 2021 on Seatgeek.
The show had previously opened on Broadway on June 28, 2019 at the Al Hirschfeld Theatre and still remains at that theatre post-pandemic. Moulin Rouge recently took the unprecedented step to switch to seatgeek.com as their primary ticket vendor, prior to the reopening post COVID-19, ditching the incumbent Ticketmaster.
Ticketmaster had been the primary ticket source at the Al Hirschfeld Theatre since 2001 and was not available for comment on the mater. Seatgeek would not provide details of the deal, but people familiar with the matter indicated that Seatgeek is providing the service as a loss leader to drive traffic to their own website.
This may allow them to sell new ticket buyers something else at a higher margin at a later time. Seatgeek.com is a ticket broker marketplace and is in an already crowded field, so inking this deal with Moulin Rouge is a bit of a coup when their fortunes had been waning in recent years.
Moulin Rouge Tickets can now be purchased at Seatgeek.com
What Is Seatgeek?
Seatgeek is a ticket platform that brings ticket buyers and sellers together for ticket sales of sports games, shows, concerts and soccer matches. The reality is that 90% of ticket sellers on Seatgeek.com are actually ticket brokers. Only 10% of sellers on their website are actual true ticket holders. For the Moulin Rouge relationship, Seatgeek is apparently not allowing ticket brokers to sell any secondary market tickets for this show on their site, as this would create confusion and a number of conflicts of interest.
How Well Will Seatgeek Work As a Primary Ticket Source?
This is the first time that Seatgeek.com has ever been a primary ticket source for any Broadway show. Many other Broadway shows and theatres are watching to see just how well it all works out. The owner of the Al Hirschfeld Theatre is the Jujamcyn Theater Group and they also own St. James, August Wilson, Eugene O'Neill, and Walter Kerr theatres. Following this test, the Jujamcyn Theater Group may then switch all their shows from Ticketmaster to Seatgeek.com. Seatgeek may also play the wait and see game, as they have clearly given the Jujamcyn Theater Group a bit of a gift in terms of pricing.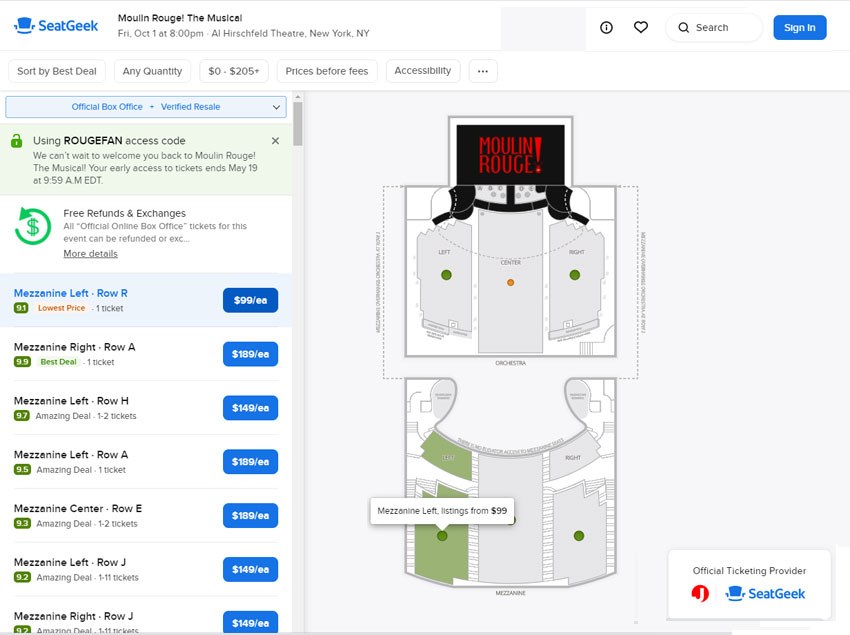 Seatgeek Appears to Provide a Poorer Ticket Buyer User Experience Compared to Competitors

There is no doubt that the Ticketmaster user experience, when buying a Broadway ticket, is far superior to that of Seatgeek.com. It has been reported that Seatgeek is providing the primary ticket service at a far lower cost than Ticketmaster, but that cost saving is not without its drawbacks. Seatgeek lacks a seat location interface that allows buyers to see their exact seat locations, instead just stating the seat number and row. Buyers also cannot see the actual view of the stage from their seat on the Seatgeek interface.
The Seatgeek user interface is clunky and lacks the tools that the Ticketmaster service has utilized for years. The mobile version of the interface is poor and somewhat confusing. It remains to be seen if Seatgeek will invest in the R&D necessary to bring their website up to best practices, but given the current financial climate, that may not happen for quite some time.
Momentous Switch of Ticket Vendors Comes at an Awkward Time For Broadway Industry
New York State Senator, James Skoufis, has just introduced the S6716 bill (which is also known as the "Live Events Bill") in the New York Senate. The bill is an attempt to solve some of the biggest consumer complaints against the Broadway industry vis-à-vis ticket sales.
One particular area of that bill that could be cause for concern for the Jujamcyn Theater Group, is the proposed ban of exclusive ticket relationships with primary ticket vendors. If the State proposal is signed into law, Seatgeek would not be allowed to be the only primary ticket source as all exclusive ticket contracts will be null and void.
The New York Senate believes that consumers should be able to purchase Broadway tickets anywhere they want, which goes directly against the contract that the Jujamcyn Theater Group has just signed with Seatgeek. In a different time, this switch by Jujamcyn would have been hailed as progressive, but with the New York Senate about to put ticket sales reform on the books, this move now looks ill-advised and could be somewhat ill fated.