'Mothers and Sons' starring Tyne Daly opens on Broadway
Tyne Daly Stars In Mothers And Sons, A Moving Playing That Pays Tribute To AIDS Criss In The Late 20th Century Now Playing At The Golden Theatre.
---
A Moving Tribute – Manhattan Style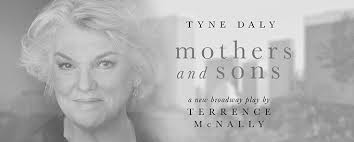 In Terrence McNally's Mothers and Sons, Tyne Daly masterfully plays the lead as Katharine Gerard, a recently widowed woman who lost her only son Andre to AIDS 20 years ago.
In the opening scene, Katharine unexpectedly turns up at the Central Park West apartment of Andre's former life partner, Cal Porter (played by Frederick Weller).
"Mothers And Sons" Storyline
Now alone in the world and still very much in denial about her son's lifestyle choices, Katharine seeks solace from the one person closest to Andre prior to his untimely death. It's been nearly two decades since Katharine and Cal have last seen each other – at Andre's funeral – and the tension between them is palpable.
Katharine is resentful at Cal for taking her son away and living a lifestyle that she disapproves. Cal is resentful at Katharine for shunning him at the funeral and refusing to acknowledge the pain he was suffering from losing Andre. Secretly hoping that Cal has not moved on, Katharine instead finds that this once poor bohemian has become a successful money manager with a new husband (Bobby Steggert) and young son (Grayson Taylor).
Tribute To The AIDS Crisis In The Late 20th Century
Katharine cannot fathom why Cal's life has improved so much since Andre's death and hers has been in a steady decline. She is angry and jealous. They exchange bitter words. And just when it appears these two couldn't be further apart, secrets are revealed that not only highlight their similarities, but also brings them closer together.
The play pays tribute to the legions of gay men that were lost to the AIDS crisis in the late 20th century and shines a light on the pain of those who lived through this horrible epidemic. When Katharine asks "When is someone going to write the next great American novel?", Cal's response is "It could have been Andre."
Tyne Daly Praised For Her Performance On Broadway
It leaves you wondering what the world might have been like had this generation of bright and talented individuals survived. This show is an obvious draw for gay couples from Chelsea, but should really seen by everyone because it's a remembrance of a period in modern American history that has been largely overlooked.
Tyne Daly is believable in the role, at times you simultaneously want to hug her, shake some sense into her, and tell her she is not alone. The subtle references to current New York City life and locations is a real treat and makes the story line even that much more enjoyable and believable. Mothers and Sons is now playing at the Golden Theatre, located at 252 W. 45th Street in the heart of Manhattan's theater district.