"Misery" Does Not Bode Well for Bruce Willis' Theatre Career
Bruce Willis made his Broadway debut in Misery, which received negative reviews and is bringing in mediocre box office.
---
Bruce Willis Stars in William Goldman Play at the Broadhurst Theatre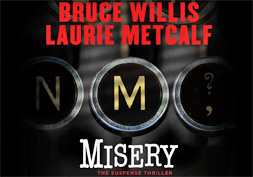 The theatrical adaption of
Misery
written by William Goldman, and based off the 1987 novel of the same name by Stephen King, is now receiving its first Broadway production at the Broadhurst Theatre. This small-scale play has only three characters, and one of them – Paul Sheldon – is played by Bruce Willis making his Broadway debut. Bruce Willis is one of Hollywood's biggest stars, well known for his roles in such films as
Pulp Fiction
,
The Sixth Sense
,
Sin City
,
The Fifth Element
,
Armageddon
,
Color of Night
, and
Unbreakable
. He has received two Emmy Awards, one in 1987 for his role on
Moonlighting
and in 2000 for his guest performance on the show
Friends
, he was honored with a star on the Hollywood Walk of Fame in 2006, and he was given the honor of Commander of the Order of Arts and Letters in 2013 by the French Minister of Culture. And although he is the eighth highest grossing actor in a leading role of movies according to Box Office Mojo, he does not seem to be having such mojo at the Broadway box office. The other two actors in
Misery
are three-time Emmy Award winner and two-time Tony Award nominee Laurie Metcalf (
November
,
The Other Place
,
Brighton Beach Memoirs
), and Leon Addison Brown (
The Trip to Bountiful
,
On the Waterfront
).
Broadway Production Receives Mixed to Negative Reviews
Upon its opening, the Broadway premiere of the decades-old play
Misery
receives a slew of reviews ranging from mediocre to outright negative. Ben Brantley from The New York Times gave his definitive opinion that the show lacks the terrifying effect of the novel, with Bruce Willis giving a vacant performance and the production never rising beyond room temperature. David Cote of Time Out New York went as far as to say
Misery
is about Bruce Willis being terrorized by the superior acting talent of Laurie Metcalf, rather than her character's obsessive fandom turned hostage holding. Jeremy Gerard from Deadline called Bruce Willis' performance "meh" and wrote that the show "hobbled" to its opening. Marilyn Stasio from Variety declared that the "eek! factor" is largely missing from this production, blaming the lack of stifling claustrophobia in the theatrical adaptation as much as anything. Mark Kennedy from the Associated Press concluded that
Misery
isn't totally miserable, but that it's just weird, but agreeing that the gulf in acting talents between Metcalf and Willis is unmistakable.
Middling Box Office Sales Continue Post-Opening
In the first partial week of four performances, it appeared that
Misery
might be a box office hit, with the show bringing in 103.98% of its gross potential and filling up 97.9% of its gross potential. Those audience members, however, may have fully saturated the diehard Bruce Willis fans who sprinted to the theatre before reviews deemed the production less than thrilling. In the following three weeks of previews, the box office was less extreme, with grosses in the range of $900,000 per week, or around 75% of the show's gross potential. However, in the last three reported weeks of box office figures since the opening, the show's figures have been in the lower range of around $700,000 to $800,000, or 55% to 65% of the gross potential. In the last reported week, the week ending December 6, 2015,
Misery
brought in $827,287, or 66.31% of its gross potential. While this isn't horrible, and certainly doesn't mean the show will have to shutter its doors early, it also does not bode well for the show to recoup its initial investment or make any profits. Furthermore, it does not bode well for Bruce Willis' theatrical career, as even if they let him back on that stage, with those reviews, he will probably not want to return to Broadway for a long time.