Mamma Mia! Will Move To The Broadhurst Theatre
After A Successful 10-Year Run At The Winter Garden Theatre, Mama Mia! Continues To Delight Audiences And Plans Moves To The Smaller Broadhurst Theatre
---
Long-Running Broadway Hit "Mama Mia!" Moves to Broadhurst Theatre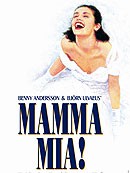 After well over a decade of playing at the Winter Garden Theatre, the long-running smash Broadway hit Mamma Mia! will transfer to the Broadhurst Theatre (currently home to the limited-run production Lucky Guy starring Tom Hanks). The transfer is expected to take place this fall.
"I'm thrilled that we have this opportunity to move Mamma Mia! to the Broadhurst Theatre in the heart of Times Square," stated producer Judy Craymer. "As we celebrate 12 years and 5000 performances in New York, I'm thrilled that The Shubert Organization has created this timely opportunity, which will allow us to present Mamma Mia! to delight audiences on Broadway for many years to come."
Smart Financial Move For "Mama Mia!"
The Broadhurst Theatre has fewer seats than the Winter Garden, which may make more financial sense for Mamma Mia! Though the musical remains popular, it has discounted its tickets for most of the show's run, so it may benefit from playing in a smaller theater where there are fewer seats to sell.
The Broadhurst also has better exposure in the high-traffic West 44th Street area of the theater district, as opposed to the Winter Garden which has less visibility to tourists given its location on the north end of Times Square.