Long-Awaited Broadway Classic "Anastasia" Goes on Sale to Public Today
Anastasia Tickets Are On Sale As Of Today, October 7, 2016, For The Musical Which Will Begin Previews On March 23, 2017 At The Broadhurst Theatre.
---
"Anastasia" Inspired By The 1997 Twentieth Century Fox Film Of The Same Name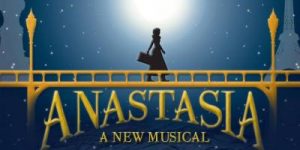 On March 23, 2017, Anastasia will begin previews at Broadway's Broadhurst Theatre, with an official opening night to follow on April 24, 2017. The musical, inspired by the 1997 Twentieth Century Fox film of the same time, will then proceed with its open-ended run.
It is important to note that the show is "inspired" by this film, rather than "based" on the film, as movie to Broadway musical adaptations often cite. The show could be a competitor to Disney's Aladdin and Lion King , with the stronghold it seems to have on family-friendly musical theatre based on animated films.
Fox Animation Studios Garners Positive Reviewas
In fact, there is a common misconception that Anastasia is a Disney movie due to its content, but the 1997 movie was in fact developed by the former Disney animation director Don Bluff and Gary Goldman at Fox Animation Studios. When the film was released in 1997, it garnered generally positive reviews, with an aggregate 85% score on Rotten Tomatoes, and by the end of its theatrical run in the U.S. and abroad, the film brought in a collective gross of $58,406,347 domestically, and an additional $81,398,001 from international screens.
As for the Broadway musical, Disney may in fact be jealous that they don't have this property, as it could be a strong contender for the same ticket buyers who might otherwise attend to Disney's Aladdin on Broadway, which has been enjoying strong critical and box office success.
Presented By Stage Entertainment USA, Bill Taylor, And Tom Kirdahy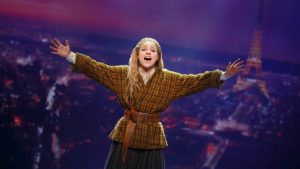 The musical of Anastasia has a book by Terrence McNally (The Visit, It's Only a Play, Mothers and Sons, Master Class, Catch Me If You Can, etc.), along with music by Stephen Flaherty and lyrics by Lynn Ahrens (the same duo behind such shows as Rocky, Ragtime, Seussical).
The show is to be directed by Darko Tresnjak (A Gentleman's Guide to Love and Murder), and choreographed by Peggy Hickey (A Gentleman's Guide to Love and Murder). The stage production had its world premiere out of town at Hartford Stage in Hartford, Connecticut, which is the same venue where A Gentleman's Guide to Love and Murder first premiered, with the same director and choreographer, and which then went on to win the Tony Award for Best Musical.
6 Songs Remain After Major Overhaul
For that trial production, performances began on May 13, 2016. Interestingly, the show is a major departure from the animated film. According to the director, Darko Tresnjak, they kept six songs from the animated musical film, but then supplemented them with an additional 16 new numbers.
Furthermore, the most important plots twists of the movie remain intact, but the musical contains new scenes and characters. Anastasia on Broadway will star Christy Altomare as Anya, Derek Klena as Dmitry, John Bolton as Vlad Popov, Ramin Karimloo as Gleb, and Caroline O'Connor as Countess Lily Malevsky-Malevitch, along with Mary Beth Peil as Dowager Empress Maria Feodorovna.
Tickets Go On Sale Today, October 7, 2016
The Ticket presale, which began on September 16, 2016, was limited to Shubert Organization owned properties only that included Audience Rewards, TicketsAtWork, Plum Benefits, and Working Advantage. The ticket presale was restricted to these sites in order to increase sales for Shuberts own companies, so they do not have to compete with the rest of the market.
The Shuberts are able to get away with this practice because they are the landlord of the Broadhurst Theatre and can therefore dictate the terms of ticket sales to the show production, even if it is not in their best interest.
Ticket Presale Options
While this action may be viewed by many as unethical, it is not technically illegal and is one of many questionable practices that the Broadway industry continues to leverage to restrict free trade and business transparency in the Broadway business community. In any case, as of today October 7,2016 tickets are finally available to the general public. The show is using the following ticket pricing tariff. Discounts to the show are not yet available.
Click here for tickets.

| | |
| --- | --- |
| Orchestra Center Rows AA-M, Side Rows A-M, ($142.00-$159.00) | $142.00 |
| Orchestra Rows N-P ($142.00-$159.00) | $142.00 |
| Orchestra Far Side Rows L-P ($142.00-$159.00) | $142.00 |
| Orchestra Far Side Rows C-K ($142.00-$159.00) | $142.00 |
| Orchestra Rows Q-T ($99.00-$115.00) | $99.00 |
| Orchestra Far Side Rows Q-T ($99.00-$115.00) | $99.00 |
| Mezzanine Rows A-C ($142.00-$159.00) | $142.00 |
| Mezzanine Far Side Rows A-C ($142.00-$159.00) | $142.00 |
| Mezzanine Rows D-E ($142.00-$159.00) | $142.00 |
| Mezzanine Far Side Rows D-E ($142.00-$159.00) | $142.00 |
| Mezzanine Rows F-G ($89.00-$109.00) | $99.00 |
| Mezzanine Rows H-J ($89.00-$99.00) | $89.00 |
| Mezzanine Rows K-L ($69.00-$79.00) | $69.00 |