"Living on Love" Closes After One Month
Living On Love, Starring Renée Fleming, Directed By Kathleen Marshall, Closes After Just A Month Of Performances Due To Low Box Office Response And No Tony Nominations.
---
Failing To Receive A Tony Nod, Producers Cut Losses And Close Broadway Show Early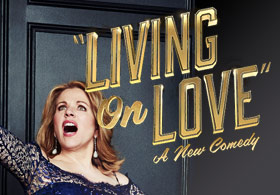 On April 1, 2015, Living on Love began previews at the Longacre Theatre. The official opening night took place on April 20, 2015. Less than a week later, the Tony nominations were announced, and Living on Love received a grand total of zero.
This play is a new adaptation of an older work by Garson Kanin called Peccadillo, which Joe DiPietro (Nice Work if You Can Get It, I Love You You're Perfect Now Change) reworked and dubbed Living on Love.
Renée Fleming Makes Broadway Debut In "Living on Love"
The play is directed by Kathleen Marshall, who has shepherded many large-scale musicals to great success such as Anything Goes, The Pajama Game, and Nice Work If You Can Get It. This was a foray into directing a straight play, but not one without a musical bent. The lead actress of the play is the opera star Renée Fleming making her Broadway debut, who plays an opera diva named Raquel De Angelis.
Therefore, though the play is not a musical, there are bouts of opera singing throughout. However, this mix of elements was not enough to make the play a hit at the box office. With low weekly grosses, and no acknowledgement from the Tony committee, the producers decided that the show's last performance would be May 3, 2015. It closed having played only 21 preview performances and just two weeks (16 performances) of regular shows.
Unable To Gain Traction At The Box Office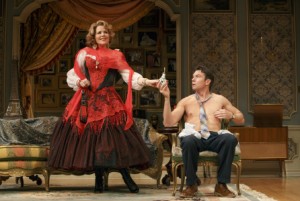 In this highly competitive season, some straight plays were standing out, some even performing neck and neck with big budget musicals such as Larry David's Fish in the Dark, Terrence McNally's It's Only a Play, and the Helen Mirren star The Audience.
Living on Love, however, had only one big name among the cast, Renée Fleming, and even she is only well known among opera lovers, which is a distinct audience from the general ticket buyers of Broadway shows.
Audiences Confused By Leading Opera Star
With a tight budget it was difficult to get the word out that this play was on, and even then it was a puzzlement for theatergoers, as it was unclear what exactly they were to expect with an opera star leading a straight play adapted from a classic farce.
When the reviews came out and many were less than positive, this did not help boost sales. Of the five weeks the show was running, the first of which was a partial week, the highest weekly gross Living on Love earned was in the week ending April 12, 2015, with a weekly gross of $198,392, which represents just 20.73% of its gross potential.
A Labor Of Love, Via The Williamstown Theatre Festival
That week also marked the highest average paid ticket, which was only $34.18. This is abysmally low for a Broadway show that sold its top ticket ambitiously for $275.00. Even with papering and discounting, the audience capacity never averaged more than 78.6% in a week, which took place the week ending April 19, 2015.
The development of Living on Love was a long process, involving the adaption of the play Peccadillo, followed by a trial run at the Williamstown Theatre Festival in July 2014. That run received positive enough reviews to encourage the producers to transfer it to Broadway, with The New York Times calling Renée Fleming an eight-lane highway broad, with a voice to graze the heavens.
Will Close At A Loss
However, in the context of the more competitive Broadway atmosphere, critics were less laudatory. Without the Tony nominations to keep the play afloat, it was just not worth it to continue paying the weekly running costs to keep the show open. Though the play was relatively low budget, it will close at a serious loss.