Lewis Black is Back on Broadway with "Black to the Future"
Lewis Black Has A New Show On Broadway, Black To The Future, Which Plays Mondays Nights Until October 24Th At The Marquis Theatre.
---
Weekly Stand-Up Comedy On Six Consecutive Monday Nights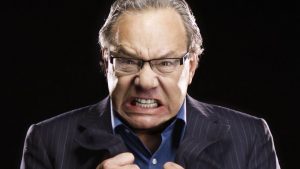 This past Monday, September 12, 2016, the comedian Lewis Black began the first of what will be six performances of his new show on Broadway called Black to the Future. Black was on Broadway once before, in a solo show called Running on Empty in 2012, which also preceded a presidential election.
Four years later, Black is back, and he is dispirited about the state of American politics. However, that does not take away from the hilarity of this comedian, whose style of jokes often borders on angry rants.
Popular Demand For "Black To The Future" Leads To Additional Performances
The show is playing at the Marquis Theatre on Monday nights, when the Gloria Estefan musical, On Your Feet!, is dark. Fortunately, a one-man stand-up comedy show does not take up too much room on the stage, and thus it can conceivably share the stage with a show that has a set built for a full-scale run, presumably just by standing in front of the curtain.
The run was originally scheduled for just four consecutive Mondays, but popular demand led to the addition of two more performances. This Broadway run is actually a stop on Black's national comedy tour, which will continue even between Broadway performances. Currently, the tour is scheduled until a Los Angeles performance on December 10, 2016.
Fan Club Gets Special Seating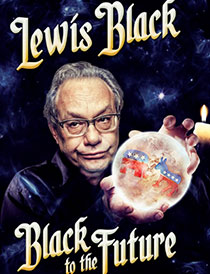 Lewis Black has created an exclusive fan club community called F.U.C.K.U., or the Frustrated Union of Cynical Kindreds Universal. This fan club comes with many perks, including pre-sale tickets to Lewis Black's shows, live interactive online events, contests with prizes, random drawings to win a Lewis Black meet-n-greet, special offers on Lewis Black merchandise, and exclusive content from Lewis Black including live Q&A archive footage.
In the case of the Broadway production, he has also reserved some of the best seats in the house for those in his fan club. This is his way of building his fan community and giving his true fans the best view, rather than Broadway walk-ins who might not be as familiar with his comedy.
Major Topic Is The Race To The White House
Politics has always been one of Lewis Black's favorite subjects, and it is not a coincidence that his two Broadway outings have taken place in election years. However, according to the Hollywood Reporter review by Frank Scheck, our nation has almost reached a saturation point with regards to making fun of politics in this current landscape, and Lewis Black is no exception. As much as he tries, many of his political jokes fall flat or seem already done. However, his personal brand of belligerent disdain still rings true.
Furthermore, his show involves a range of jokes, some of which have nothing to do with politics. And finally, because Black only performs his Broadway show once a week on Monday nights, he has a whole week to catch up on new current events, which he can incorporate into his show. Therefore, the show will continue to be fresh and relevant each week, rather than the same show each night. Lewis Black: Black to the Future will play its final performance on Monday, October 24, 2016.