Les Misérables Movie Tops Christmas Box Office
The Film Adaptation Of Broadway's Les Misérables Opens With Impressive Hollywood Box Office Figures As The Second-Highest Grossing Christmas Day Opening
---
"Les Misérables" Opens In Hollywood With Impressive Box Office Results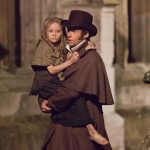 Broadway musical theatre fans can breathe a sigh of relief as the Hollywood box office grosses have revealed that the new Les Misérables movie had a very strong opening day. The 2nd highest-ranking Christmas Day opening of all time, Les Misérables earned $18.1 million on its first day in movie theaters, drawing out holiday audiences eager to see Hugh Jackman and Russell Crowe go head-to-head on the big screen.
The film has also enjoyed a largely positive critical response, currently at 73% positive on RottenTomatoes.com. While Broadway fans have flooded message boards with reviews of the movie adaptation of the beloved musical, the movie's great box office performance can be counted as a plus for most Broadway fans whether they like Les Miz or not, because when a new Hollywood movie musical does well it bodes well for future film musicals.
"Les Miz" Success May Open The Door For More Broadway Shows
There is already buzz that Les Miz's success means there will soon be a screen adaptation of Miss Saigon, the other major musical success by Les Miz's songwriting team, Claude-Michel Schonberg and Alain Boublil.