Les Misérables Movie Opens Christmas Day
The Long-Awaited Movie Adaptation Of Les Misérables Finally Opens In Theatres On Christmas Day With High Expectations From Broadway Fans
---
Broadway Hit "Les Misérables" Finally Premieres On Film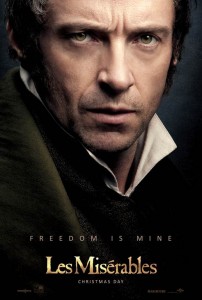 Fans of the worldwide sensation Les Misérables don't have to wait one day more to finally see the much-anticipated movie version of the musical. Directed by Tom Hooper (The King's Speech) and featuring an international all-star cast, Les Misérables opens nationwide in movie theaters today, and is likely to be a hit with the Christmas Day movie theater-going crowd who have gathered with their families for the holidays.
Based on the classic Victor Hugo novel that tells the stories of multiple characters during a period of revolution in 1800s France, Les Misérables was one of the great stage musical hits of the 1980s, becoming a huge success in London, on Broadway, and all across the globe. The long-awaited movie adaptation stars Hugh Jackman as convict-turned-philanthropist Jean Valjean and Russell Crowe as his police inspector nemesis Javert.
High Expectations From Broadway Fans
The film also stars Anne Hathaway (singing one of the musical's signature numbers, "I Dreamed a Dream"), Helena Bonham Carter, Eddie Redmayne, and Broadway's own Aaron Tveit (Next To Normal) in key roles.
As usual with movie musicals, which have been a Hollywood rarity for decades, the Broadway community will be eager to see how the Les Miserables film is received by the public at large because, if it does well, that will be considered a good omen for more Hollywood musicals. Furthermore, many Broadway fans will be anxious to see whether or not the movie lives up to their expectations in its adaptation of the familiar and well-loved musical.