Les Miserables DVD Bonus Features Announced
Broadway Hit Les Misérables Is Now A Successful Feature Film With New DVD Featuring Exclusive Commentary By Tom Hooper And Cameron Mackintosh
---
Broadway Hit "Les Misérables" Is Now A Hit Feature Film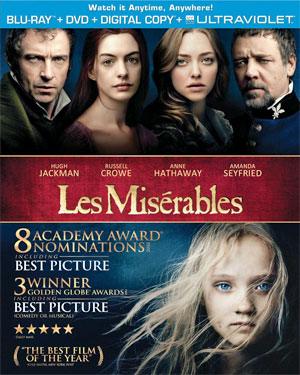 The new feature film of Les Misérables, which recently won several Golden Globe Awards and is now up for a number of Oscars, will be released on DVD and Blu-ray on March 22. There will be a combo pack that includes the DVD, Blu-ray disc, and a digital copy and ultraviolet, making it possible for viewers to watch the movie on multiple platforms.
Fans will be happy to know that the Les Misérables release will include several bonus features. Both the DVD and Blu-ray will have a commentary track with director Tom Hooper, as well as features on casting, production design, and the original Victor Hugh novel.
Exclusive Bonus Features
Bonus features exclusively available on the Blu-ray disc include segments on building the iconic barricade, filming on location, the process of filming the actors singing live, and a profile of Cameron Mackintosh, who produced the original stage production of Les Misérables and was involved in the making of the movie version as well.