Kristin Chenoweth Hosts The Dames of Broadway on PBS
Stage And Flim Star Kristin Chenoweth Will Honor The Great Female Characters Of Broadway As Part Of A Live From Lincoln Center TV Series On Broadway
---
Celebrating The Ladies Of Broadway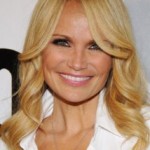 The spotlight will be shining on the female characters who have made Broadway grand in the upcoming PBS broadcast of Kristin Chenoweth: The Dames of Broadway ... All of 'Em!, set to air on March 24. Airing as part of the Live From Lincoln Center TV series on PBS, the concert itself is a part of Lincoln Center's celebrated American Songbook series.
During the evening, Chenoweth will honor the great roles for women that Broadway has brought us, from fabulous leading roles to scene-stealing featured parts.
Kristin Chenoweth Hosts Upcoming PBS Event
Kristin Chenoweth is herself a favorite lady of Broadway, first gaining fans with her turn in You're a Good Man, Charlie Brown and going on to dazzle Broadway audiences in Wicked. More recently Chenoweth has been seen on TV in Glee and Pushing Daisies.