Kenneth Lonergan's "Lobby Hero" Opens to Great Reviews
Kenneth Lonergan's Lobby Hero opened on Broadway to positive reviews in a production directed by Trip Cullman and starring Michael Cera.
---
Trip Cullman Directs Excellent Cast in Broadway Premiere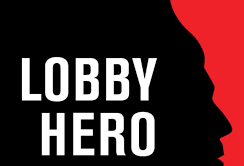 On March 26, 2018, Lobby Hero opened at Broadway's Helen Hayes Theatre, where it had been running in previews since March 1, 2018. The Second Stage production is currently scheduled to close on May 13, 2018. This marks the first time the not-for-profit theatre institution Second Stage Theatre has produced a show on Broadway, even though they have long been operating out of their Off-Broadway home nearby in midtown at 8th Avenue and W 43rd St. They now call the Helen Hayes Theatre their Broadway home, and after a period of renovations Lobby Hero is their first production there. This is also the first time Kenneth Lonergan's play Lobby Hero has been on Broadway, although the show premiered Off-Broadway in 2001 at Playwrights Horizons. Since then, Lonergan's star has continued to rise. His Broadway debut took place in 2014, which was a production of his play This Is Our Youth, also starring Michael Cera who appears in Lobby Hero. Meanwhile, Lonergan's film career has been solid, most recently with his writing and directing of Manchester by the Sea, starring Casey Affleck and Michelle Williams, which earned him the Academy Award for Best Original Screenplay, among many other recognitions. Now, he is making his second Broadway outing with a revival, though the Broadway premiere, of his play Lobby Hero, directed by Trip Cullman (Six Degrees of Separation, Significant Other).
Excellent Reviews, Especially for the Cast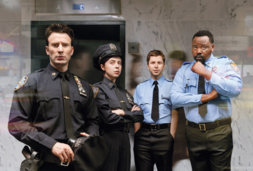 Upon its opening night, Lobby Hero earned a string of positive reviews. The play stars four accomplished actors: Michael Cera, who is best known for his screen roles including the television show "Arrested Development, Bel Powley, who starred on Broadway in Arcadia and also has a rising film career with such roles as The Diary of a Teenage Girl, Brian Tyree Henry who is best known for his role on the television show "Atlanta," and Chris Evans, making his Broadway debut after starring as Captain America in the Marvel franchise. In his review of the play, Ben Brantley from The New York Times called the production "meticulously acted," declaring that you are likely to feel "personally invested" in these characters and their story, even if they are not the most likable. David Rooney from The Hollywood Reporter began by praising Chris Evans' leap from superhero movie star to down-to-earth theater performer, deeming it a "star turn." He also found the play to be "textured" with a "dramatic pulse" and "needling humor." Joe Dziemianowicz from the New York Daily News complimented the "fine-tuned" show, enjoying its "funny-sad" nature and also agreeing about Evans' "deft performance." Leah Greenblatt from Entertainment Weekly also enjoyed the show, calling the performances "high-wattage" and complimenting the "sparely staged" production.
Box Office Shows Room for Growth
Despite these all-around positive reviews, the box office is not a sell-out. The cast is notable, but not necessarily of the box office gold level of, say, Bette Midler. Furthermore, while this is the first time the play has been on Broadway, it is still a New York revival, and thus there are fresher options to be had. In the last week of reported box office figures, the week ending March 25, 2018, the show brought in $333,114, which represents 52.19% of its gross potential. With a top ticket price of $299, the average paid admission was $81.81, and the audience capacity averaged out to 87.6%. The week before that, the week ending March 18, 2018, the show reached 60.82% of its gross potential, and the audience was filled up to an average of 97.0% of capacity. To date, the show has reached 56.50% of its gross potential over the four weeks of the run thus far. Therefore, there is still room for improvement in these numbers. The show is only running for another month and a half, and thus it may be a great option for someone looking for discount tickets to an excellent but under-selling option on Broadway!