Julianna Margulies and Paul Rudd Read The Mercy Seat
Paul Rudd And Julianna Margulies Will Conduct A Special Reading Of The Mercy Seat In A Benefit Event At The MCC Theater On June 17th, 2013.
---
A Benefit Event Reading For "The Mercy Seat" At The MCC Theatre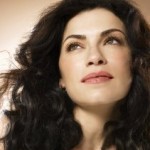 A special reading of Neil Labute's play The Mercy Seat, featuring Julianna Margulies (TV's The Good Wife) and Paul Rudd (recently on Broadway in Grace), will be staged at the Lucille Lortel Theatre on June 17. The reading is part of a benefit event for MCC Theater, which originally produced the play in 2002.
The Mercy Seat was one of the first stage dramas written in response to the 9/11 tragedy. Taking place the day after the terrorist attacks, the play is about a married man who was thought to be among the victims but is actually holed up in his mistress's apartment. The two must decide whether to go back to life as usual or start anew.
Ticket Information
Tickets for the reading of The Mercy Seat are $75, $100, and $250. Visit www.mcctheater.org or call 212-352-3101 for more information.