Ivo van Hove's "A View from the Bridge" a Favorite with Broadway Critics
A View From The Bridge Opened At The Lyceum Theatre On Broadway To Excellent Reviews From Critics, Although Box Office Has Been Representing Only A Little Over Half Of Its Gross Potential
---
Ivo van Hove's Acclaimed Production is Now Open and Running
Arthur Miller's A View from the Bridge was last on Broadway just over 5 years ago, in a largely commemorated production starring Scarlett Johansson and Liev Schreiber at the Cort Theatre. In such a short amount of time, producers do not generally decide to bring a show back to Broadway. However, the newly opened production of this play is an exception, and according to the reviews, a very justified one. Starring mostly British actors making their Broadway debuts, this production is an entirely revisited approach to the classic play directed by Ivo van Hove. Though this is van Hove's debut on Broadway, it has already been announced that he will also be bringing his rendition of The Crucible to Broadway in April 2016.
A View from the Bridge first premiered on Broadway in 1955, when it received relatively little fanfare compared to the classic status that it has been given today. In more recent revivals, it took home the 1998 Tony Award for Best Revival of a Play, and the 2010 revival also received the nomination. In London, this production directed by Ivo van Hove earned the Olivier Award for Best Revival, Ivo van Hove earned the Olivier Award for Best Director, and Mark Strong, who is reprising his role on Broadway, earned the Olivier Award for Best Actor.
Critics Agree This Production is Excellent on All Fronts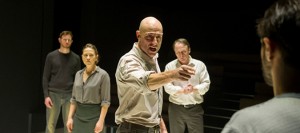 Upon its opening, Ben Brantley of The New York Times began his review by saying this must be what Greek tragedy felt like, deeming the production a "magnificent reconception" and comparing the experience to "catharsis." David Cote from Time Out New York was equally inspired to declare his love for this production, and his angst that other classic plays do not commonly receive such a brilliant recreation.
David Rooney from The Hollywood Reporter called the show a "stunning reappraisal" and remarked that Mark Strong's performance was a "knockout." Robert Kahn from NBC New York enjoyed the stark set and ghostly soundscape, and also was mesmerized by Mark Strong's performance. Jennifer Farrar from Associated Press was also highly impressed with the production, calling it "muscular" and "gripping," and declaring that even if you think you've seen this show enough times, you haven't.
Broadway Box Office Remains Unexceptional
Despite the unanimous appreciation for this remarkable production, box office has been slow on the uptake. In the last reported week of box office figures, A View from the Bridge brought in $523,447, which is a decrease of $1,833 from the previous week. This represents just 58.00% of its gross potential. With a top ticket price of $248.00, the average paid admission was $83.54, which is the highest average paid admission yet of the run to date. Nevertheless, the audience capacity was just filled up to 74.1%, which is the lowest average capacity of any week to date. Therefore, the people who were buying tickets this past week were willing to spend more money, and yet there were fewer of them.
The highest weekly gross of any thus far was the week before last, the week ending November 22, 2015, which brought in a gross of $525,280, representing 61.45% of its gross potential. Therefore, these box office figures are not so low that the production is in danger of closing anytime soon, and yet it also does not seem likely that the play will recoup its initial investment. Fortunately, Lincoln Center is behind this production along with Scott Rudin, so the not-for-profit institution will be able to weather the blow in the name of supporting excellent art.