It's Spring, so it Must be Time to Loop the Loop
As Warmer Weather Rolls In, The Cyclone At Coney Island Officially Opens For The Season With The Tradition Of Cracking Egg Cream On The First Car
---
Coney Island's Cyclone Opened For The Season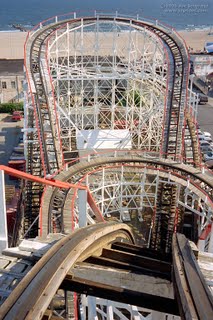 Thoughts of roller coasters may not be foremost in your mind in this splashy, raw New York weather, but they were certainly on someone's—the Coney Island Cyclone officially opened for the season yesterday.
Anyone know the traditional ritual that kicks off the season? Yes, it's the ritualistic cracking of a bottle of egg cream on the first car of the world-famous, wooden-tracked coaster that ushered in its 83rd season.
The Cyclone Takes Center Stage
The Cyclone is perhaps the most famous attraction in Coney Island and one of the most famous roller coasters in the world; riders started taking the plunge back in 1927. Cool roller coaster fact of the day: Since a relatively small portion of land was available for the ride, it had to be designed to be extremely tight and steep, rather than spread out.
True afficionados love the old-fashioned wooden coasters for the uh, quality of the ride. Nineteen more attractions, in an area named Luna Park after the old Coney Island, should be up and running by Memorial Day.
ACE Roller Coaster Landmark
Astroland Amusement Park in Coney Island closed two years ago; the former owner is still in charge of operating the Cyclone. The Cyclone Roller Coaster was listed in the New York State Register of Historic Places on June 31, 1991; it is also a National Historic landmark.
It is one of only 17 coasters in the world that the American Coaster Enthusiasts have designed an "ACE Roller Coaster Landmark," which is given to rides of historic significance. The Cyclone at Coney Island is located at 834 Surf Avenue on the Boardwalk in Brooklyn, NY. (Who could make up a better address?) Call 718 265 2100 for more information.