Irving Berlin's "Holiday Inn" Opens at Studio 54
Holiday Inn is open and running at Studio 54 in a roundabout theatre company production directed by Gordon Greenberg and starring Corbin Bleu and Bryce Pinkham, having received mixed reviews.
---
Gordon Greenberg Directs the Roundabout Theatre Company Production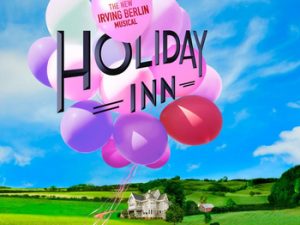 This past week,
Holiday Inn, the New Irving Berlin Musical
had its official opening night at Studio 54. The musical had been in previews since September 1, 2016, and is scheduled to run for a limited engagement until January 15, 2017. Based on the 1942 film
Holiday Inn
, which had music by Irving Berlin and starred Fred Astaire and Bing Crosby, this new musical first premiered in a regional production at Goodspeed Opera House in East Haddam, Connecticut. This is particularly fitting, as the story is set in Connecticut, and deals with a young show actor who moves up from the city and ends up trying to apply his musical talents and ambitions in the suburban setting. Therefore, when the show received great reviews, it was only natural for the reverse to happen to the show as what happens to the characters: the show moved to Broadway and tried its hand in a more urban setting. The musical has a book by Gordon Greenberg and Chad Hodge, to accompany the music and lyrics by Irving Berlin, along with direction by Gordon Greenberg and choreography by Denis Jones. This is Greenberg's Broadway directorial debut, but he has previously appeared twice as a performer in the Broadway productions of
How to Succeed in Business Without Really Trying
and
The Little Prince and the Aviator
.
Generally Positive Reviews from Critics
Upon the show's opening, Charles Isherwood from The New York Times was on the fence, calling the show perky but bland, and comparing it to candy canes and mistletoe appropriate for the holiday season. However, other reviewers were more positive. Jeremy Gerard from Deadline admitted it was shamelessly old-fashioned, but also called it an endorphin assault and a warm pleasure bath, celebrating the opportunity to revisit Broadway musicals of 75 years past. David Cote from Time Out New York was also in love with the production, admitted there was some corn and cheese in the recipe, but also enjoyed the chance for an early cup of eggnog. Joe Dziemianowicz from the New York Daily News also gave the show a rave, enjoying the fine cast and the tasty sprinkles on the vanilla flavored fluff. Something about this show continually inspires food metaphors. However, Matt Windman from AM New York did not enjoy the show, accusing it of being a remake of a remake of a remake, deeming that it lacks the production value of other Irving Berlin shows such as
White Christmas
, and that it is too early to stuff holiday fare down audience's throats.
A Difficult Sell at the Box Office
In the six weeks that the show has been running thus far, it has not demonstrated a lot of box office promise. Of course, that could change as the holiday season approaches, given that this is a holiday themed show. In the last reported week of box office figures, the week ending October 9, 2016, the show brought in a weekly gross of $404,315, which represented 41.73% of its gross potential. With a top ticket price of $162.00, the average paid admission was $61.19, and the audience was filled up to 82.8%. Overall, the average percentage reached thus far throughout the run is only 37.62%, and the audience capacity has been filled up to an average of 71.43%. With the mixed reviews coming from the New York Times and AM New York, ticketbuyers may not be rushing to buy a ticket from word of mouth alone. Perhaps the subscriber base at Roundabout will keep the audiences more than half full, but that might be all we can expect from this show, at least until Thanksgiving