Hamilton's Weekly Ticket Gross Exceeding $3 Million May Be Misleading
Hamilton Brought In An Extraordinary Weekly Gross Of Over $3 Million, While The Book Of Mormon Dipped To Sixth Place.
---
Box Office Take At Lin-Manuel Miranda's Musical Increases By $800K In Just One Week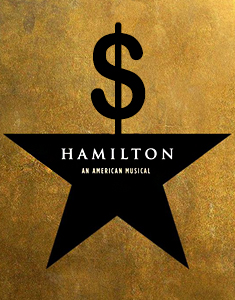 In the week ending November 27, 2016, some big changes came over Broadway. Most glaringly, Hamilton, the biggest hit musical of recent years, made an extraordinary accomplishment: it exceeded the $3 million mark box office take for face value ticket sales, in the standard eight shows per week model.
Specifically, it brought in a weekly gross of $3,260,089, which is a 25% jump of $805,433 from the previous week of $2,454,656. This landmark achievement is amazing on the surface, but also deserves a bit of scrutiny when you consider some of the ticket pricing strategies being adopted.
Surprising Sales For Long-Time Favorite
Even when a show such as Wicked or The Lion King breaks the $2 million mark, it is notable, but those shows also play in much larger theatres. Also, large sales numbers are sometimes seen in weeks when a show decides to play nine performances, but this past week Hamilton played the usual eight, which makes it that more surprising.
The Changing Financial Calculations At "Hamilton"
The huge increase in ticket sales numbers at Hamilton is not as simple as it seems. What the show sold in face-value tickets can be a questionable statistic in terms of success, failure or even the direction of ticket sales for a Broadway show. Most tickets for Hamilton are resold on the secondary market, which gives a much more accurate picture in terms of sales numbers, but that number is never used.
Only the box office data is quoted. Hamilton on Broadway has continued to be a very popular Broadway show, but it has actually gotten a lot less popular since the creator of the show, Lin-Manuel Miranda, left the show on July 9, 2016.
"Hamilton" Utilizing Dynamic Ticket Pricing
During Miranda's time in the lead role, box office tickets sold for $10,000 at Hillary Clinton's fundraiser (Somewhat ironic as the Democratic party was opposed to the policies of Alexander Hamilton and his Federalist Party) and for $24,000 per seat on the secondary market for his last show. What recently happened to increase the box office ticket sales number is that the show's management has been steadily increasing the price of face value tickets and making them closer to what the secondary ticket market has been selling them for, essentially squeezing out the ticket brokers.
Hamilton's top ticket price is now officially listed as $998.00, which is a big jump from its top ticket price of $549.00 the previous week and another big jump from the original top ticket price of $275.00 from the first week of Broadway performances back in July 2015, when few ticket brokers cared about the show.
Hamilton Box Office Up; Secondary Ticket Market Down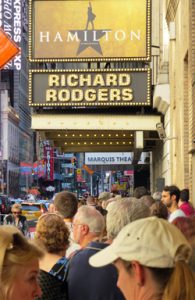 This gap between face-value and secondary-market prices has always been the sweet spot for ticket brokers, who have been leveraging the gap for a handsome profit yield since the show opened in July 2015. The modus operandi of ticket brokers has been to buy Hamilton tickets in advance, and sell them for higher prices closer to the date of the show.
Ticket market experts have identified that although Hamilton appeared to have sold in excess of $3 million tickets in the Thanksgiving 2016 week, its real total in ticket sales for that week was closer to $5.8 million dollars, if you include secondary market ticket sales.
Digging Deeper Into Ticket Sales
This is calculated by adding the regular box office face-value ticket sales and the increase in value that the tickets then sold for in the secondary market ticket on websites like Ticketsnow, TicketNetwork and Stubhub. These websites account for 90% of all Hamilton ticket resales. For the week prior to Thanksgiving, Hamilton was actually $5.6 million in total sales.
If the Thanksgiving bump of 25% is to be believed, this should have made the actual Thanksgiving sales numbers closer to $7 million. At just $5.8 million the indicated increase in total sales was actually just 4%, which is deemed pretty poor for the Thanksgiving week which often provides shows with at least a 15% boost, indicating that Hamilton may be in trouble, despite its stellar ticket sales headline.
Misrepresenting Financial Facts
Lauding the $3 million+ box office take, not noting the change in ratio of secondary market tickets to increased price box office tickets and not recognizing the decrease in total Hamilton ticket sales income for this period is just lazy journalism of which all the major media outlets are guilty. Media outlets and Hamilton investors stating that the Mike Pence ambush also led to the increase in ticket sales is also misrepresentation of the financial hard facts.
What is surprising is that well-known Hamilton sycophants, Playbill's managing editor, Robert Viagas and his former editor and Broadway insider, Blake Ross (who was a publicist with Sunshine, Sachs and Associates from 2004 to 2009 and who represented Lin-Manuel Miranda during that time and is now Vice President of Marketing at Advertising Week.) have failed to post anything about the record-breaking $3.26 million Hamilton news.
True Hamilton Tickets Sales Data
The Hamilton management strategy has been to try to claw back profits from ticket brokers, a strategy that may actually mask the true direction of the show. To take it to the extreme, Hamilton could ban all ticket broker sales tomorrow (by demanding government ID at the door to match the name on the tickets) and they could then announce that the $3 million in sales has now been eclipsed by a new number of $5.8 million, but this would be quite disingenuous, as the show did not actually increase its real total sales number at all.
Right now, Hamilton may actually be a lot less popular than the media hype would lead us to believe, but the show producers have figured out a good way to make their fat-cat investors profits significantly higher and make the show appear to be more popular than it may be, all in one shrewd move. It's a pretty good scam and every media outlet fell for it, including the New York Times, The New York Post, Variety, Forbes, and Deadline.
Other Broadway Show Producers Take Notes From The "Hamilton" Strategy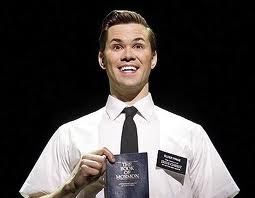 As other hit Broadway show managers get smarter, we may expect to see the same thing in other top shows. Hamilton's top ticket price is now $998.00, but In contrast, the show with the next biggest top ticket price is The Book of Mormon at $477, and the average top ticket price among all running shows is $267.59, so it doesn't seem that this strategy has yet taken hold in the other top shows.
In Other News, "The Book of Mormon" Falls to Sixth Place Meanwhile, as Hamilton "appears" to be on the financial rise, The Book of Mormon fell to sixth place, which is unusual for this hit musical comedy.
Many Shows See Increase In Weekly Gross
It's not that Book Of Mormon has been making less money, but all the others have started to make more money. Hamilton was the top earner with a weekly gross of $3,260,089, and the second-place earner was The Lion King with a weekly gross of $2,496,332. Next was Wicked, with a weekly gross of $2,286,976, followed by Aladdin, with a weekly gross of $2,047,065.
What's unusual is that next in line was School of Rock – the Musical, with a weekly gross of $1,590,032, followed by The Book of Mormon all the way down in sixth place, with a weekly gross of $1,533,940. Close behind was a play, The Front Page, with a weekly gross of $1,306,273.
Demand Finally Simmers For "The Book of Mormon"
If this isn't the first time The Book of Mormon fell to sixth place, then it is at least highly unusual. Ever since this Trey Parker, Matt Stone, and Bobby Lopez began performances on Broadway on February 24, 2011, it has been the talk of the town. However, coming on six years later, it only makes sense that we might start to see some of this demand die down, especially as Hamilton is the new popular kid in town.
However, this past week also encompassed the Thanksgiving holiday and weekend, which is a family-friendly time of year, and The Book of Mormon isn't exactly a family-friendly musical. Therefore, we will see next week if this trend holds, or if Aladdin and School of Rock continue to outshine The Book of Mormon, which may well turn out to be a boon for discounters.