Hamilton Movie Makes Its Living Room Debut on Disney+
Hamilton premieres on Disney+ streaming service on July 3rd, 2020 and is the first online Broadway movie deal of its kind, thanks to Lin Manuel-Miranda
---
Hamilton Launches on Disney+
On Friday July 3rd, 2020, the hit Broadway show Hamilton, which has already broken many Broadway box office records, is released on the Disney+ online movie streaming service for at-home viewers to enjoy. The Broadway show makes its great 'living room' debut, for regular audience members everywhere, who are sitting on their comfortable couches at home, instead of the overpriced seats at the Richard Rodgers Theatre in NYC. The movie had originally been scheduled to be released in movie theaters on Oct. 15, 2021, but the creator, lyricist and actor Lin Manuel Miranda chose to bring this masterpiece to the small screen right in the middle of the 2020 COVID-19 pandemic.
Hamilton has been hugely successful on Broadway, and it is the first Broadway show of this caliber to be added to any premium streaming service. Interested viewers will only have to fork up $7.99 to watch the performance from home, by signing up for a month of access to the new Disney+ service.
The online streaming price is a small fraction of what the original Broadway ticket price once was, where the best seats in the theatre would often be in the four figure range. Disney+ did offer a free trial month of their service, but they removed that in order to prevent people from watching Lin Manuel-Miranda's Hamilton for free. New subscribers can cancel their account after 30 days, which many are expected to do after they have watched this show a number of times.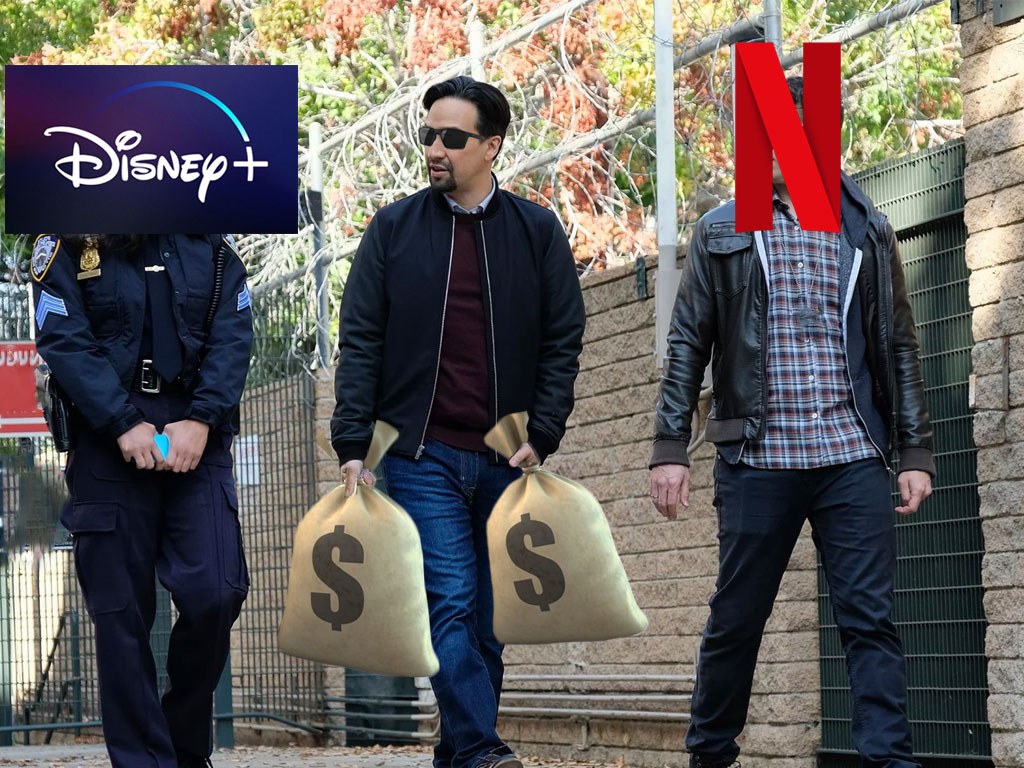 $75 Million Business Deal Breaks a Number of Records
The Disney+ Hamilton sale is the biggest deal of its type and it came in at a mind-boggling $75 million. Lin Manuel-Miranda, the show's already famously wealthy writer, lyricist and lead actor, may have just doubled his net-worth from just this one deal. The deal ended up being one of the most expensive single show purchases that Disney has ever made. In 2009, Disney had paid a total of $4 billion each for the rights to the Marvel superhero movie franchise and Lucus films' classic Star Wars series, however $75 million is the most Disney has ever paid, by far, for one single movie.

Disney+ usually only offers content that has been produced by themselves or from one of their subsidiaries including, Marvel, Star Wars, National Geographic and Pixar. The Hamilton movie debut is the first of its type on the streaming platform and it is the largest brand on the medium not owned by Disney.
Other Streaming Services Wanted Hamilton
There were a number of other online streaming services who were also interested in owning the rights to the Hamilton Broadway production, including video streaming giants Netflix, Amazon and Apple TV+. These competitors all made low-ball offers in the $50 million range that were summarily rejected by Miranda.
These offers also attempted to wrestle the brand away from Miranda and his team, but were edged out by the newest streaming service and fierce competitor, Disney+. Media pundits agree that Disney will probably not purchase any more Broadway shows as Hamilton is a bit of an aberration, with its huge popularity, and there are no other comparable shows quite like it.
What to Expect From Hamilton on Disney+
The Hamilton movie on Disney+ is not a Hollywood 'redone' movie version of a Broadway show. It is the actual recording of the live performed show on stage, shot on the very last days that Lin-Manuel Miranda and all the original cast still performed together.
The movie was recorded at the Richard Rodgers Theatre over three days in June 2016. Two days of filming were with a regular live Broadway audience and one day was the close-up shots that could not be done in the public performance, as the movie cameras would essentially block the view for the paying public. On July 9th, 2016 all the three core actors would leave the show and go on to do other things. This included Lin Manuel Miranda, Phillipa Soo and Javier Munoz.
Few Video Edits
Diehard #Hamilfans will notice that the only edits in the Disney+ movie version are a shortened intermission, as they do not expect home viewers to need 15 minutes to make it to the bathroom, and the removal of two curse words, to bring it in line with Disney's family-friendly brand.
Although the show is actually the taped stage production, it has been edited together with multi-angle cameras and improved audio. In many ways the movie is a much better experience than going to the Broadway show in-person, as viewers would need different seats to see the angles and aspects of the various scenes. While many among the Disney+ audience will be coming to "Hamilton" for the very first time, it is the new subscribers that will ultimately pay for the exposure to this Tony- and Pulitzer-blessed phenomenon.
New Audiences for Disney+
Disney launched its online streaming service in mid November of 2019 and it began to grow its subscriber base significantly, during March and April of 2020, due to the quarantine rules that were made to combat the COVID-19 global pandemic and forced everyone to stay home. Disney+ now has nearly 65 million monthly subscribers, consisting of users from all over the world. Roughly 39 million subscribers are based in the U.S. and these users each pay $7.99 a month for the service. With the price Disney+ paid for the movie coming in at $75 million, and assuming that each new subscriber will want access for at least two months, estimates indicate that Disney is expecting at least 4.6 million new users to its platform from this acquisition alone.
Hamilton Added 6% Boost In Subscribers To Disney+
This is nearly an expected 7% increase of users from just one new piece of new content. It should be noted that streaming services do not publish their show's viewing numbers to the public, unlike TV shows and movie statistics which makes determining the success or failure of the Hamilton acquisition stunt more difficult to analyze following the production's release.
Broadway, and Hamilton specifically, is not the typical audience for Disney's content. Most of their movies are family-oriented and geared towards adolescents or children. However, the Broadway audience usually skews older (40+ year olds) and have a great deal of disposable income. Star Wars movies, and The Mandalorian specifically, do appeal to older audiences, but few other titles on Disney+ are intended for an older crowd.
Discount Broadway Tickets
---
---