"Hamilton" a Hit with the President, Celebrities, and Audiences
Hamilton Is On Track To Win A Record Number Of Tony Awards, President Barack Obama Has Seen It Twice, And Oprah Winfrey Got Jimmy Kimmel And Howard Stern's Broadway Tickets
---
President Barack Obama Has Hamilton on Broadway Multiple Times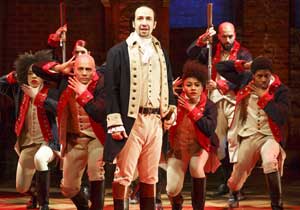 On July 18, 2015, United States President Barack Obama saw an early preview of the Broadway production of Hamilton, which at the time was a hit freshly transferred from its Off Broadway run at the Public Theater. On November 2, 2015, Obama returned for a second time, this time for a Democratic party fundraiser. The event was organized by Broadway producer Margo Lion, who also organized fundraisers for Mr. Obama's presidential campaigns in 2007 and again in 2012. Though Lion is not a producer of Hamilton, she is an investor in the show, and her numerous Broadway producing credits include The Heiress, Catch Me If You Can, Come Fly Away, Radio Golf, The Wedding Singer, and Caroline, or Change. This event on November 2, 2015 was a Monday night, when the theatre is normally dark. Instead, the fundraiser event sold tickets for the price of $5,000 each. Specifically, the money raised went to the national committee as well as the Democratic Hope Fund, which works to pay off the debt from President Obama's campaign. The subject matter, which deals with the founding of America, is appropriate for such a political event. Barack Obama isn't the only member of the first family to attend Hamilton for repeat visits; Michelle Obama also saw a matinee performance at the end of September.
Oprah Winfrey Bumped Jimmy Kimmel and Howard Stern for Broadway Tickets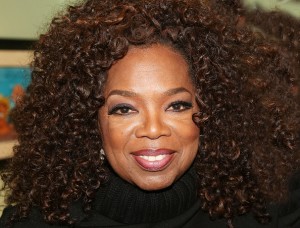 According to Marks-Friggin news, which provides a play-by-play and juicy insider details regarding the Howard Stern Show, Howard Stern was going to attend Hamilton on Broadway, but was bumped by Oprah Winfrey. Jimmy Kimmel, of Jimmy Kimmel Live!, and his wife, Molly McNearney, had invited Howard Stern and his wife, Beth Stern-Ostrosky, to attend Hamilton with them. Kimmel pulled the right strings as he was already shooting his show that week in Brooklyn, and the VIP tickets were confirmed. According to his comments on The Howard Stern Show, Stern was reluctant to go, as he admittedly isn't the biggest fan of Broadway shows, but will tolerate them for his wife as she loves Broadway.
The only Broadway shows Stern remarked liking were Larry David's Fish in the Dark, because it had no music, and Hedwig and the Angry Inch, but he was still cynical in his praise. As for Hamilton, Stern didn't get a chance to determine if he liked it or not, because reportedly, Oprah Winfrey then called up the producers of the show and asked for tickets on the same night and they bumped Jimmy Kimmel and friends and gave the tickets to Oprah Winfrey. This let Howard Stern off the hook but frustrated Kimmel, McNearney and Ostrosky, who were all looking forward to go and see the show. It seems there are a limited number of VIP tickets available for celebrities' last minute calls, and though Jimmy Kimmel is a pretty big celebrity, Oprah is still bigger.
Howard Stern and Oprah Winfrey Feud Reaches New Low
This event does nothing to mend the feud between Oprah and Stern, that has been dragging on for years. The already-bad relationship was exacerbated in 2006 when Winfrey joined XM radio, a Sirius Radio competitor, when they paid her a whopping $55 million over three years to put her name on a channel for which she would personally provide only about an hour of programming a week. Stern was furious, stating that, even though he did not work for XM Radio, this misstep could bring down the whole satellite radio industry.
After the Sirius - XM Radio merger in 2009, the newly formed SiriusXM Radio stuck with Winfrey for a few years, but at a greatly reduced rate. In January 2015, Stern finally got his wish and SiriusXM plugged the plug on Winfrey after they realized that Winfrey was adding very little value to the brand and not bringing in any new subscribers. After they cut Winfrey, analysis reveals that subscribers did not leave, which underscored their executive decision. It is not clear if Winfrey knew that the tickets to Hamilton were earmarked for Kimmel's party and we have not received word from Winfrey's camp about the matter, but it does appear like it is a dish served cold.
On Track to Win Record Number of Tony Awards on Broadway
Hamilton is not only the buzziest show around and the most difficult to get tickets; it also received excellent reviews after its opening night. This all seems to show that it will be in the running for a huge number of Tony Awards this next year's awards season. In choosing to begin previews in July, the Public Theater and the other Broadway producers Jeffrey Seller, Sander Jacobs, and Jill Furman were smart for two reasons.
One was that it allowed the Public to take home the Tony Award for Best Musical for their 2015 offering, Fun Home. Another is that they knew the show was so good, that it would continue building buzz for the entire year until the following year's awards, rather than most shows, which strategically try to begin performances in the high fall or high spring seasons, in order to be fresh in Tony nominators' and voters' minds. However, Hamilton really is that good, and it will certainly be recognized in the 2016 Tony Awards