Gypsy of the Year Competition to Play Minskoff Theatre December 9-10
The 25th Annual Gypsy Of The Year Competition Highlights The Hard Work Of The Talented Performers That Make Broadway Shows Possible
---
Annual Gypsy Of The Year Competition Highlights Broadway's Ensemble Performers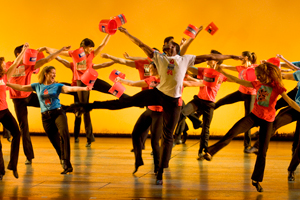 Broadway Cares/Equity Fights AIDS (BC/EFA) hosts a number of popular Broadway-related benefit events throughout the year, and the Annual Gypsy of the Year competition is one of the most loved.
This year's Gypsy of the Year will be held at the Minskoff Theatre, home to the long-running Disney musical The Lion King, on December 9 at 4:30pm and at December 10 at 2:00pm.
25 Years Celebrating Talented Performers
Now in its 25th year, Gypsy of the Year puts a spotlight on Broadway's many ensemble dancers and singers, dedicated and talented performers -- sometimes called "gypsies" -- who don't always get the glory but whose hard work is crucial to the vitality of Broadway. Over 200 of these Broadway gypsies will do original sketches, along with song and dance numbers, during the event. The Gypsy of the Year performances in December will cap off a six-week fundraising push by the companies of Broadway, Off-Broadway, and touring shows as they try to raise money for BC/EFA.
Since its inception, Gypsy of the Year has raised more than $50 million for charity. The company that raises the most funds will be recognized, as will the best performance. You can purchase tickets to be in the audience for Gypsy of the Year by calling 212-840-0770 (ext. 268) or by visiting www.broadwaycares.org. Tickets range from $20-$110, with VIP tickets in the $200-$350 range.