Green Isn't Just for the Lights at the Empire State Building Any More
The Empire State Building Has Now Installed Super-Efficient Led Lights In An Effort To Use Less Power, Help Airline Pilots, And Improve Other Challenges
---
Empire State Building Now Utilizing LED Lights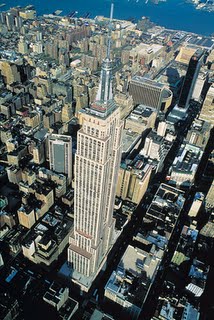 The Empire State Building on 34th Street and Fifth Avenue, just added a new lighting system that means that the lights for this monumental building now use 50% less power. The super-efficient commercial LED lighting system cost over a million dollars to install and will recoup its investment within 2 years from the power consumption savings.
The iconic Empire State Building has been cleaning up its act as "The Top Of The Rock" at 30 Rockefeller Plaza just overtook it in number of visitors per year. Normally the lights are switched off at midnight to save money and avoid neighbor complaints.
Bright Lights Wreaking Havoc
Often the lights at night can cause havoc with air traffic as it can blind airline pilots coming into La Guardia or Newark airports. The building is responding to other challenges too, from record high office space availability as many of its tenants have either gone out of business or moved to cheaper climes like uptown, downtown, or even New Jersey and Long Island.