"Grace" Broadway Show Critical Review and Synopsis
Craig Wright's "Grace," A Thought-Provoking Drama, Makes Its Broadway Debut At The Cort Theatre With An Impressive Cast Featuring Paul Rudd, Ed Asner, Michael Shannon, And Kate Arrington
---
Paul Rudd and Ed Asner Star in Broadway Debut of "Grace"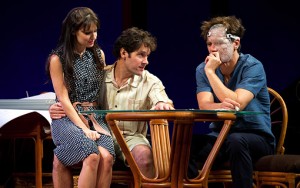 Though Craig Wright's Grace has already been seen in a few theaters around the country, it is just now making its Broadway debut at the Cort Theatre. The play has a small but impressive cast, headed by film star Paul Rudd and TV legend Ed Asner (who makes a big impression with a relatively small role), along with indie film and TV actor Michael Shannon and Kate Arrington. The quartet are uniformly excellent as they explore the relationships of Wright's complex characters. The actual plot of Grace may sound a bit off-beat (and it is). It concerns a couple from Minnesota who leave their evangelical church community in St. Paul and move to Florida with the hopes of establishing a Gospel-themed hotel there.
Their lives become entwined with that of their neighbor, a reclusive astrophysicist who is recovering from a car accident that has disfigured him and left his fiancee dead. Ed Asner plays a German-born exterminator who periodically comes to spray their homes for pests. From the opening scene--which, intriguingly, plays out backwards--we see that Grace has serious undertones. It addresses themes of redemption, predetermination, faith, loyalty, love, and what our place is in this world. But it's also very funny and well-observed, and seeing the culture clash between the well-meaning Christian Minnesotans and their new Florida friends is enjoyable.
"Grace" Explores Faith and Transformation
Each of the four characters seem pretty set in their view of life at the beginning of the play, none more so than Rudd's, whose initially certain faith sends him into a tailspin as soon as it is challenged by major setbacks in his marriage and work. But the other characters too have emotional and spiritual experiences--subtly and convincingly rendered by the playwright--that leave them changed before the play's dramatic conclusion. Grace is a thought-provoking if brief (the running time is only 90 minutes) evening at the theater, and well worth seeing during its limited engagement, scheduled through January 6.