Gingerbread People? Your Winter Homes are Ready at the Parker Meridien Hotel
Gingerbread Houses At Parker Meridien Hotel Are All Set For The City Harvest Charity Event To Raise Money For The Homeless, Donated By Local Bakeries
---
Admire Impressive Gingerbread Houses And Help A Worthy Cause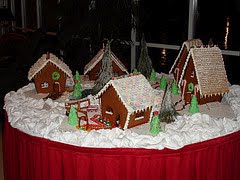 If you were a gingerbread person looking for digs in New York, you would almost certainly want to settle down in one of the fabulous creations now on in view in the very chi-chi Parker Meridien Hotel (119 West 56th Street, between 6th and 7th Avenues; 212-245-5000).
The confections, which went on view this week, were donated by bakeries like Cupcake Café, Billy's Bakery, Buttercup Bakery (which diverged from the traditional and made a subway car), and Soutine Bakery.
Raising Money For "City Harvest"
While ogling the gingerbread houses (which are located in the atrium, and are decked out in frosting, gumdrops, marshmallows and more) is most certainly encouraged, their real purpose is to bring awareness to local bakeries and, primarily, to help raise money for City Harvest.
The world's first food rescue organization, City Harvest helps to feed more than 260,000 New Yorkers each week. According to the organization, each donated dollar helps them deliver and rescue almost four pounds of food; they salvage almost 25 million pounds of food a year that would otherwise have gone to waste.
Win A 5-Night Stay At The Parker Palm Springs
Visitors, therefore, are encouraged to donate one dollar in order to vote for their favorite gingerbread structure. If you do so, you'll be entered into a drawing to win a 5-night stay at the Parker Palm Springs, airfare included. It's a win-win situation! The display, which includes eight magnificent abodes, will be on display through the end of January. No nibbling allowed.