"Gigi" Concludes Its Run on Broadway
Gigi Closes On June 21, 2015 At The Neil Simon Theatre, Starring Vanessa Hudgens And Victoria Clark, After Negative Reviews.
---
Negative Reviews, No Tony Love, And Inadequate Sales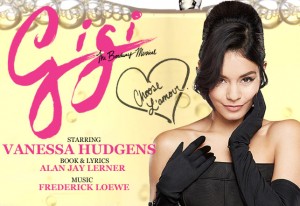 When Gigi began previews on March 19, 2015 at the Neil Simon Theatre, the first-time Broadway producer Jenna Segal had high hopes. She had shepherded this revival through substantial revisions to make it more suitable for modern day sensibilities, and she had found a bonafide star to play the title role: Vanessa Hudgens, making her Broadway debut no less.
However, the community was fairly unwelcoming to this novice stage producer, which was demonstrating by the revival's failure to receive any Tony nominations or awards.
Vanessa Hudgens Praised For "Gigi" Performance
When the show opened on April 8, 2015, the reviews were mixed to negative, with most critics disliking the show for its bland attempts at political correctness and its overly bubbly efforts to dazzle without substance. Though Hudgens' performance was praised, as was that of Victoria Clark who played Mamita, this was not enough to make the overall impression a positive one for reviewers.
The musical did have a chance to perform at the Tonys, with Hudgens singing "The Night They Invented Champagne" along with the ensemble cast, but the highly theatrically and admittedly corny number did not sit well with broadcast audiences, and sales continued to be disappointing.
Unable To Achieve Even Half Of Its Gross Potential
Since the show began performances, the highest weekly gross was $635,256, which occurred in the week ending April 12, 2015, shortly after the reviews came out. However, that response was very short-lived, and probably was mostly made up of fans of Vanessa Hudgens who hadn't yet heard she was on Broadway.
However, a tween star has a limited marketing potential for Broadway audiences, who usually tend to average around age 55 and female. Therefore, other than that one week, the highest weekly gross was $585,448, which represents 49.44% of the show's gross potential.
Marketing And Discounting Can't Save "Gigi"
The lowest gross earned thus far was $401,946, taking place in the week ending June 7, 2015, the week leading up to the Tony Awards. The following week, the show did see a jump to $508,643, which represents 37.81% of the show's gross potential. However, that is not enough to allow this musical to persist on Broadway, as it has announced the closing date will be at the end of this week: June 21, 2015.
The top ticket price is not abominably high at $198.00, and yet the average paid admission ranged from $65 to $80, demonstrating a heavy amount of discounting. Therefore, despite all the producers' greatest efforts at marketing, much of which was done over social media, this show just couldn't take off.
Demonstrating The Limited Power Of Social Media On Broadway
Whereas social media has proven itself to be a force to be reckoned with in many other forms of entertainment, Broadway has been slow to embrace this marketing method. Gigi was an exception, with the producers aiming to leverage Hudgens' young fan base. However, this wasn't enough to make the show a hit at the box office.
Though there is still potential for Broadway to catch up with the world in terms of how information is spread, it appears that theatre remains in the world of "old school," with direct mail still functioning as a more effective marketing tool than social media. It is true that email blasts and websites are a major source of ticket sales and marketing, but social media is still proving a tough nut to crack for Broadway.