"Gigi" Begins Performances on Broadway
Gigi, Modern Adaptation Produced By Jenna Segal Began Previews On March 19, 2015 At The Neil Simon Theatre Starring Vanessa Hudgens In The Title Role.
---
Vanessa Hudgens Makes Her Broadway Debut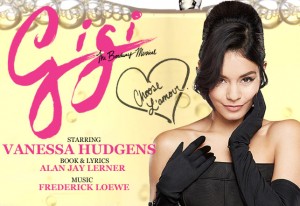 On March 19, 2015, a new revival of the musical Gigi began previews at the Neil Simon Theatre. This musical with book and lyrics by Alan Jay Lerner, and music by Frederick Loewe, first premiered on Broadway in 1973, when it won the Tony Award for Best Original Score, and was nominated for three other Tony Awards including Best Actor, Best Scenic Design, and Best Costume Design.
However, that production was disappointingly short-lived, running for only 103 performances. Nevertheless, the play premiered in the West End in 1985, where it ran for seven months.
The Talented Cast Of "Gigi"
This revival is a new adaptation of the musical, written by the British screenwriter and playwright Heidi Thomas. Directed by Eric Schaeffer (Follies, Million Dollar Quartet), and choreographed by Joshua Bergasse (On the Town), this production of Gigi premiered at Washington, D.C.'s Kennedy Center prior to arriving on Broadway.
The role of Gigi is played by Vanessa Hudgens, the High School Musical star who is making her Broadway debut. Additional roles are played by Victoria Clark (Sister Act, Rodgers + Hammerstein's Cinderella), Corey Cott (Newsies), Dee Hoty (Bye Bye Birdie, Mamma Mia!, Footloose), Steffanie Leigh (Mary Poppins), and Howard McGillin (Sunday in the Park with George, She Loves Me).
A Rookie Producer Gets Creative
Gigi is produced by Jenna Segal, who formerly worked in television at MTV and Nickelodeon, but who has never been involved in the production of a Broadway show before. However, she has known this story since she was a little girl, and it was her passion for the material that drove her to secure the rights and develop this revival.
She faced certain challenges in adapting this show to the modern age. The story is about a young courtesan who decides to leave her training to marry for love. The original tale involved lovers with a wide age difference, 15 and 33, so this revival tightens that gap, making Gigi 18, and her beloved only a bit older.
Partnering With Luxury Brands To Appeal To Wealthy Demographic
Furthermore, one of the most famous songs, "Thank Heaven for Little Girls," was sung by an older uncle, which could leave a strange impression on contemporary audiences. To respond to this issue, the rewrites reattributed this song to a different pair of singers, the grandmother and aunt played by Victoria Clark and Dee Hoty.
Furthermore, Segal took an inventive approach in partnering with luxury brands to make the show more glamorous and appeal to a range of audiences in the wealthy Broadway demographic. For instance, Swarovski provided over 250,000 crystals for the production, and Veuve Cliquot is a sponsor of the show, which includes such songs as "The Night They Invented Champagne."
A Dream Come True For Hudgens
At age 26, Vanessa Hudgens has had a fair share of success. She has ventured into high-profile television, film, and pop music endeavors, but this is her first time shining on the Broadway stage. She told The New York Times that this experience has really changed her work ethic and perspective on her career goals.
Returning to the stage for the first time since she was a little girl, this opportunity allows her to feel stardom in the visceral live reality that only theatre can offer. In terms of the role of Gigi, Hudgens has had a lot of experience with both wholesome and racy roles, and Gigi can be considered both of these.
Audiences Excited To See Hudgens On Stage
Her first breakout role was a supporting part in the film Thirteen, but then she was restored to honesty with a much less morally troubling part in "High School Musical."
On the flipside, her part in the Harmony Korine film Spring Breakers involved a scandalous sex scene with James Franco. In any case, Hudgens can leverage this experience to bring a well-rounded sense of character to Gigi, and her 6.7 million Instagram followers will eagerly await the reviews.