Lin Manuel Miranda's 'Freestyle Love Supreme' Fails to Deliver
Lin-Manuel Miranda's Hot New Unscripted Show Freestyle Love Supreme Does Not Hit The Anticipated Ticket Sales Numbers Despite Mostly Positive Reviews
---
Hamilton Creator's Freestyle Love Is Less Than Supreme At The Box Office

Lin Manuel Miranda's new and highly-anticipated Freestyle Love Supreme, officially opened in the Shubert owned Booth Theatre on October 2nd, 2019. After two and a half weeks of in-preview showings, excessive promotion, guerrilla marketing and on-the-street chatter, this show has not been the hit that it was expected to be.
History Of Freestyle Love Supreme
Conceived before Hamilton and In The Heights, Freestyle was the name of one of the first performance groups that Miranda was a part of, well before his ultimate runaway Broadway success juggernaut, Hamilton. Miranda added to the original show's name and magically got it on Broadway by pulling some strings from his new Broadway friends, who control what gets seen and what gets sent to the trash.

He did this as a way to "supposedly" give back to his original crew who inspired and motivated him to achieve his ultimate Broadway goal. With this new show, Miranda intended it to be a vehicle for him to give the group the success that he thinks they have always deserved, by making them the star performers on the Great White Way. The show was set to skyrocket to the top of the Broadway charts and with Miranda on the card, nobody would question that.

Lin-Manuel Miranda Not Always A Rainmaker

However, this was not the case as the actual ticket sales numbers indicate that this production is not doing very well at all. The opening sales numbers were pretty bad. The first week in previews was too short to take into account (as it opened on a Friday) but was 88% sold for the nights it was open. In the second week of previews the show made it to the 20th spot out of the 32 Broadway shows playing right now.

The theatre was 85% full and gross ticket sales were bleak at just over $700,000 for the week. This past week the show dropped down one spot to the 21st position on the list and was also down about $100,000 compared to the previous weeks gross ticket sales. Now the show is officially open and many positive critic reviews are now out, the sales numbers could turn around.

Heavy Discounts In Effort To Fill Seats

The show's management are busy discounting the overpriced show in an effort to boost flagging sales numbers, but this show is clearly no money-making-machine and Broadway audiences are now voting with their feet and wallets. The show's backers are definitely on tenterhooks as they anticipate the next few weeks and may have even lower audience turnouts and lower ticket sales numbers, which would be a travesty.

It also doesn't help that the theatre's landlord is also the "Dark Lord" of Broadway, The Shubert Organization, and when they are not happy when a show underperforms, they make sure the show producers know all about it.
What To Expect From Freestyle Love Supreme
The show follows its original unscripted format which is basically an improv, freestyle rap and Hip-Hop show which changes from performance to performance based on input from the audience. The show also changes based on how the performers are feeling that night and what they want to say. Because of this, not every show is as good as the last and on top of that, Miranda does not perform most nights - he only comes to perform as he pleases.

Fans are aware of this fact and are not willing to pay for pricey tickets if there is no guarantee that he will be there, let alone not knowing if that night's performance will be one of the good ones or not.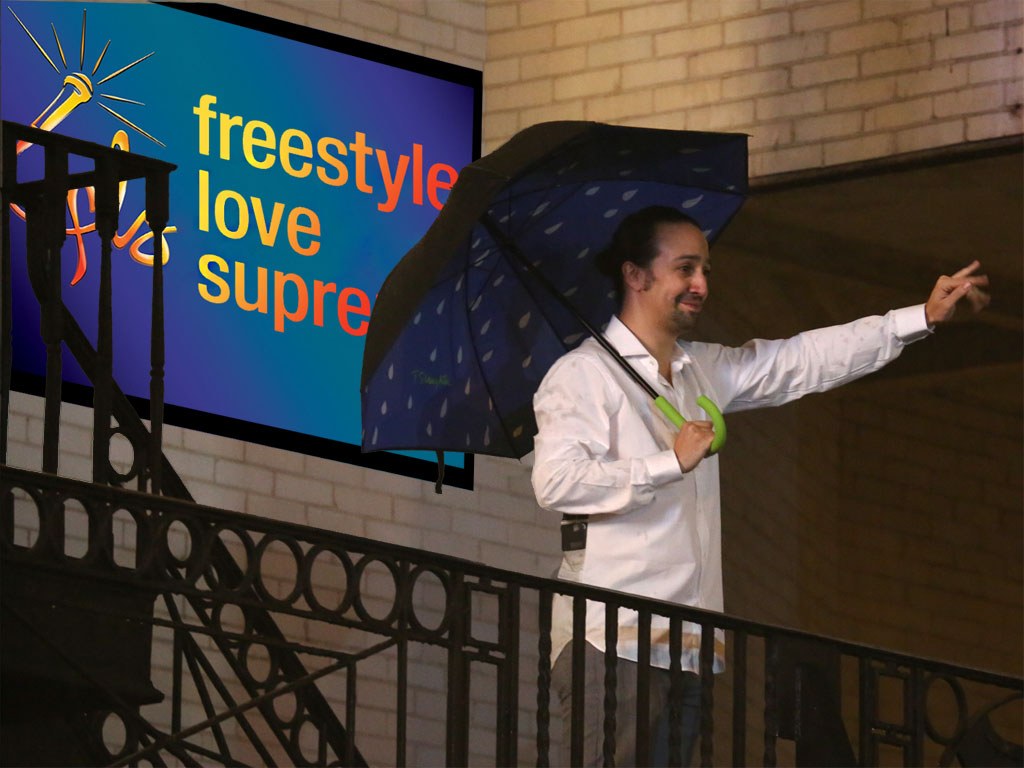 Positive Critical Reception

The show officially opened on October 2nd, 2019. Reviewers from CNN, NYTimes, Time Out, The EW and Playbill each published exceedingly nice reviews, despite its low attendance numbers and piping-cold welcome by ticket-buyers. The critics all saw the very best version of this show, but failed to mention in their reviews that the show is quite different every night and when Lin-Manuel Miranda is not there, things are definitely less-than-compelling.

Media sycophants like Ben Brantley from the New York Times were quite happy to gush, telling his readers how he loves to ogle at big names in little shows. The problem is that Lin-Manuel Miranda is only at the show once-in-a-while and Brantley will only be there once. Regular theatregoers do not get the star treatment and they have to pay for their tickets.
Lin-Manuel Miranda And Millennial Resistance
Miranda has also gotten resistance from his Millennial audience who are a little pissed with the show's policy on phones. Yondr seals audience members mobile devices in soft-shell locking pouches to prevent them from being used during the show and to stop the occasional phone ring.

Many Millennials leave the ringer on when they put the phone in the pouch and the show gets interrupted anyway. This indicates that the use of this technology is less about keeping phones quiet and more about stopping content being videotaped or leaked on the internet.
Freestyle Love Not Likely Tony Contender
Freestyle Love Supreme, which often feels like a rich-man's stage version of Nick Cannon's Wild n' Out TV show, is scheduled for a 16 week run, closing on January 5, 2020 and may not qualify for a regular Tony Award due to its unscripted nature. The Tony committee may create a new category just to bestow Lin-Manuel Miranda another award so he has something to prop up his other awards on his Roche Bobois bookshelf.