Freedom Tower Subway Restaurant Goes to New Heights
A Subway Sandwich Shop Is Attached To A Hydraulic Lift For Workers Building The Freedom Tower To Eat Lunch Without Having To Return To Ground
---
Subway Restaurant On A Hydraulic Jack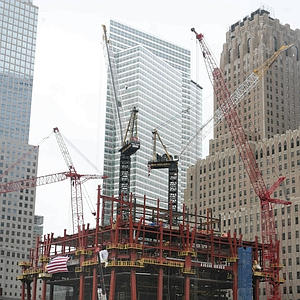 You've heard of Meals on Wheels and maybe even revolving restaurants. But we bet this is the first time you've heard of a New York restaurant that rises as its patrons do. The restaurant in question is Subway; it's been designed to feed the workers building the Freedom Tower on the site of the former World Trade Center.
The Subway sandwich shop is attached to a lift on a hydraulic jack--the jack moves it up as each floor is completed. It allows the workers to grab lunch without having to descend, not an easy feat. (The full Subway menu, including the ever-popular $5 foot-long sandwich, is available.)
Five Floors Built Out Of 105
The yellow concession trailer flies an American flag and also boasts windows, a bathroom and some offices for the project managers have also been hoisted above street level. The 200-foot base of the building should be finished by February 2010; after that, a floor a month is expected to be added.
Let's hope they have a lot of sandwich toppings and varieties of chips available—only five floors have been built so far, out of 105. Windows on the World, the famous restaurant that perched near the top of the World Trade Center, was approximately that height. The Freedom Tower is supposed to be finished in 2013, and will rise to 1,776 feet, including a spire.