Film Musical Nine Barely Makes the Box Office Top Ten
The Movie Musical Nine, Based On The Broadway Play Of The Same Name, Opened On Christmas Day With Mediocre Ticket Sales And Negative Word-Of-Mouth
---
Movie Musical "Nine" Based On Broadway Play Opens On Christmas Day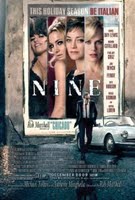 The latest Hollywood movie musical, Nine, opened to wide release on Christmas Day, and as usual, the Broadway wags have all been keeping a close eye on it and its public reception.
Theater fans are a notoriously difficult group to please, and the word of mouth has skewed negative on this film, helmed by Rob Marshall, the director of the Oscar-winning movie musical version of Chicago. Unfortunately Nine has not managed to get either the critical or public acclaim that Chicago received.
Starring Daniel Day-Lewis And Penelope Cruz
Based on the Broadway stage musical of the same name (which recently had a successful Broadway revival starring Antonio Banderas), Nine stars Daniel Day-Lewis as a troubled Italian filmmaker alongside a slew of famous actresses (Penelope Cruz, Judi Dench, Kate Hudson, Fergie, Nicole Kidman, Marion Cotillard, Sophia Loren) who play the many women in his life.
All of that star power didn't translate into big box office receipts, though, as Nine only came in at Number 8 during its opening weekend. With so little positive buzz and continued competition from blockbusters like Avatar and Sherlock Holmes, there seems to be little hope that the movie's fortunes will improve during New Year's weekend.
Even Big Stars Can't Bring In Ticket Sales
Even if Nine does better internationally, which seems likely given its cast of international stars, the movie will still likely be regarded as a flop in the U.S., which is never a good sign for other film musicals in development. Of course, even the string of previous Broadway-turned-movie-musical failures (such as The Producers and The Phantom of the Opera) has not stopped the production of further film musicals which has amounted to a musical Renaissance in Hollywood.
As long as there is an occasional success (Hairspray and Mamma Mia were recent box office favorites), hopefully, Hollywood will continue looking to Broadway for inspiration.