Evita Ends Its Broadway Run Tonight
Considered One Of The Most Successful Broadway Productions Of 2012, Evita, Starring Ricky Martin, Concludes Its Run On January 26, 2013
---
Successful Broadway Hit "Evita" Concludes Its Run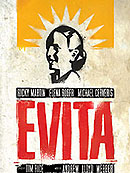 The hit Broadway revival of the Andrew Lloyd Webber / Tim Rice modern classic musical Evita ends its run at the Marquis Theater today, January 26. Closing on a Saturday is somewhat unusual, as Broadway shows typically conclude runs on Sundays.
Evita will have two performances today, a matinee, and then the very last performance will be at 8pm. Starring Ricky Martin, Evita was one of the most successful Broadway productions of 2012. The show had the advantage of a well-known name, due to both its first run on Broadway and the film version starring Madonna and Antonio Banderas.
Ricky Martin Was A Box Office Hit
But Ricky Martin's participation was also crucial to the musical's excellent ticket sales, since he drew in many of his own fans who may not otherwise be interested in Broadway theater.
When it was initially announced that Evita's main stars, Ricky Martin, Elena Roger, and Michael Cerveris would be departing this month, the show's producers hoped to locate suitable replacements. But ultimately they couldn't find what they were looking for and decided to simply end the production's Broadway run instead.