Disgraced Concludes Its Run Far From Being Disgraced
Disgraced Concluded Its Run On March 1, 2015 At The Lyceum Theatre, Starring Gretchen Mol And Josh Radnor. The Show Finished Closed In The Black.
---
Last Performance March 1st At The Lyceum On Broadway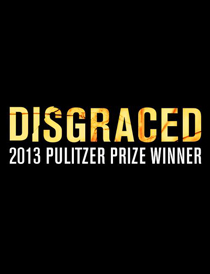 When Disgraced began performances on Broadway on September 27, 2014, the production did not announce its closing date. After it opened on October 23, 2014, critics received it with warm praise. It was a New York Times Critics Pick, and Christopher Isherwood began his review with "Bon appetit!"
However, despite these laudatory remarks, it never was a sell out at the box office. In January, it was announced that the last performance would be March 1, 2015.
Kimberley Senior Steers "Disgraced" To Broadway
The play, written by Ayad Akhtar, won the Pulitzer Prize for Drama, as well as the Obie Award and the Joseph Jefferson Award. The play had its New York premiere at Lincoln Center's Claire Tow Theatre, through their LCT3 program to support new writing.
Prior to that, it premiered in Chicago at American Theatre Company directed by Kimberley Senior, who has steered the production all the way to Broadway, thereby making her Broadway directorial debut.
A Mixed Cast Of Originals And TV Stars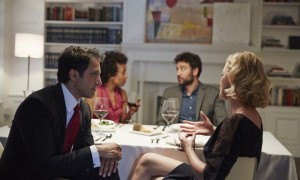 The cast stars Gretchen Mol (the smoldering Madame of a brothel on Boardwalk Empire) in the role of Emily, an artist specializing in Middle Eastern imagery. She is married to a successful Pakistani-American lawyer, played by Hari Dhillon, a British actor, who made his Broadway debut in this role.
Josh Radnor (from the TV show How I Met Your Mother) plays Isaac, the Whitney curator who is supporting Emily's work. Karen Pittman plays his wife Jory; she made her Broadway non-understudy debut in this role, after having premiered the part at LCT3.
Danny Ashok Makes Broadway Debut
Jory and Isaac are a mixed-race couple who come over to dine with the protagonists, and the dinner conversation gets personal, dealing with concepts of race and identity. The fifth and final cast member is also making his Broadway debut: Danny Ashok plays Abe, Amir's nephew.
Unlike the very Western justice-based viewpoint of Amir, Abe is a bit more radical. He urges his uncle to help defend an imam who is under accusation of supporting Hamas.
Mediocre Box Office Performance
Despite accolades, praise, and acknowledgment that this was a truly great play and production, it still struggled to become a financial success. At the height of its weekly grosses, Disgraced brought in $512,646, which represents 65.92% of its gross potential. With a top ticket price of $198.00, the average paid admission was never over $85.87.
And yet, in its highest earning week, the average paid admission was $78.87, so clearly discounting paid off to some degree for this production. At the Lyceum Theatre, Disgraced had a weekly gross potential of about $778,000.
Disgraced Can't Compete But Still Makes History
A straight play without Hollywood A-list stars or a recognizable film or brand name, Disgraced just couldn't compete with all the other attractive fare on Broadway.
The big blockbuster musicals or hot stars on the marquee would surely beat out in mass the diehard locals and intellectuals who visit Broadway in order to see a Pulitzer Prize winning play on topics of interest regarding racial, religious, and national dynamics. And for those who haven't read the literary press, that title isn't very encouraging. Still, though this play may not have made profits, it did make history.