Deaf West "Spring Awakening" Starts Previews on Broadway
The Deaf West Production Of Spring Awakening Began Previews This Week, Starring Both Hearing And Non-Hearing Actors.
---
Revival Of 2006 Musical Starring Hearing And Non-Hearing Actors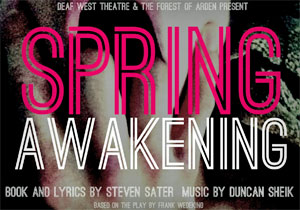 On September 8, 2015, Spring Awakening began previews at the Brooks Atkinson Theatre on Broadway. However, this is not the same production as that which premiered nine years ago. Like the 2006 premiere, this production has a book by Steven Sater and music and lyrics by Duncan Sheik.
The story is the same, based on the 1891 play by Frank Wedekind by the same name in German. However, this revival is a transfer from a Los Angeles production that premiered in September 2014, produced by Deaf West Theatre and directed by Michael Arden.
"Spring Awakening" Is A Beautiful Medley Of A Diverse Cast
Like the Los Angeles production, this Broadway revival stars both hearing and non-hearing actors, in the traditional Deaf West format. The theatre company's last and only other show to come to Broadway was Big River in 2003, which was based on Mark Twain's Huckleberry Finn.
Like that production, Spring Awakening is cast with a mixture of actors, sometimes with a hearing and non-hearing actor doubling up on a role that calls for the artistic choice, or sometimes just played by a hearing actor or alternately a non-hearing actor. All in all, this creates a beautiful medley of not only singing but also dancing through American Sign Language, as well as a subtle appreciation for the artistic choice made for each character.
Idea For "Spring Awakening" Revival By Mientus
The idea for this specific revival of Spring Awakening was reportedly brought to the director Michael Arden's attention by his fiancé, Andy Mientus. Mientus was in the national tour of the original production of the musical, and he plays the role of Hanschen in this production.
The only other cast member derived from an earlier Broadway incarnation is Krysta Rodriguez, who plays Ilse and was a swing in the original Broadway production.
An Excellent Cast, Many Making Their Broadway Debuts
The only other two actors who have been on Broadway before are Patrick Page, a Broadway veteran who plays a variety of adult male roles, and Alex Wyse as Georg, who has been on Broadway once before in Lysistrata Jones. The many actors making their Broadway debuts include Marlee Matlin, who won the Academy Award for Best Actress in a Leading Role for Children of a Lesser God, as well as Camryn Manheim who has a background as a sign language interpreter for hospitals and also is a Golden Globe winner.
Additional roles are played by Russell Harvard, Sean Grandillo, Daniel Durant, Miles Barbee, Sandra Mae Frank, Alex Boniello, Joshua Castille, Treshelle Edmond, Katie Boeck, Kathryn Gallagher, Lauren Luiz, Amelia Hensley, Daniel David Stewart, Austin McKenzie, and Alexandra Winter.
Deafness Incorporated Not Only Stylistically But Also Thematically
The choice to make a Deaf West production of Spring Awakening was not a random decision. Rather, the themes in the story set in the late 19th century include teenagers' inability to communicate with their parents, being unable to speak their true feelings, and having inadequate sexual education.
Therefore, the incorporation of deaf actors and sign language is meant to evoke and underscore these ideas, while also creating a beautiful statement about equality and disability. Furthermore, it is visually stirring to see sign language played onstage alongside traditional singing and dancing, and Duncan Sheik's score is altogether original and beautiful.