Deaf West "Spring Awakening" Concludes Run Early on Broadway
Spring Awakening Closed At The Brooks Atkinson Theatre On Broadway, As The Deaf West Production Was Too Soon Following The Premiere For Audiences To Get Excited About Buying Tickets
---
Despite Stellar Reviews, Premature Revival Shutters Due to Low Sales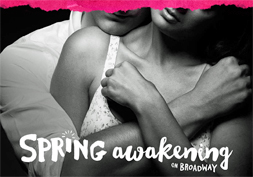 When Spring Awakening premiered on Broadway a decade ago, it was a major smash hit. It was nominated for 11 Tony Awards in the 2006 to 2007 season, winning 8 of them including Best Musical, Best Book of a Musical for Steven Sater, Best Original Score for Duncan Sheik and Steven Sater, and Best Direction of a Musical for Michael Mayer. While 10 years may seem a bit soon for a show to be revived on Broadway, the producers of the 2015 revival of Spring Awakening felt they had a unique production on their hands, one that warranted bringing the show back to New York so soon.
In a way, they were right. The Deaf West Theatre Company, based in Los Angeles, conceived of a new rendition of Spring Awakening directed by Michael Arden, who starred in Deaf West Theatre and Center Theatre Group's comparable production of Big River on Broadway. Both productions were designed in Deaf West's signature style, which incorporates both hearing and non-hearing actors in roles originally written for traditional performers. The full effect is staggering, as some roles are doubled up by one hearing and one non-hearing actor, and some are played by one or the other, as the American Sign Language gestures become its own form of dance.
Excellent Reviews, but Broadway Box Office Never Got Off the Ground
When the Deaf West production of Spring Awakening played in Los Angeles in fall 2014, and again in spring 2015, it was critically acclaimed far and wide. The entire cast then transferred to Broadway, beginning previews on September 8, 2015 and opening on September 27, 2015. New York critics were just as enthusiastic, deeming the show a history-making production that justified a revival so soon after the premiere. Nevertheless, audiences were not so easily convinced in a busy season of many new shows to choose from. Even in the week after the laudatory reviews came out, sales barely budged.
Throughout the run, the highest weekly gross came in the week including New Years when the show played 9 performances, bringing in $688,989, or 61.02% of its gross potential. In the week ending November 1, 2015, the show reached the dangerously low gross of $287,833, or 28.68% of its gross potential. In its final week of six performances, the show brought in $545,145, or 72.43% of its gross potential, its highest percentage of the run. Although the show originally opened with an open-ended run, hoping to run for a long while, the decision was made to close this past week, on January 24, 2016.
A National Tour to Begin in 2017
Despite the flailing Broadway run, the production is confident that they have something very special on their hands. Therefore, the show is set to begin a national tour in 2017. Details have not yet been announced, but several cities have expressed excitement including Seattle, Tempe, Arizona, and Los Angeles, where the production began. While the cast has also not been announced, chances are that the national tour will include most if not all of the same cast who played on Broadway, as they were also the originating cast members from the first incarnation of this production.
Discount Broadway Tickets
---
---