"Charlie and the Chocolate Factory" Begins Previews
Charlie And The Chocolate Factory Began Previews At The Lunt-Fontanne Theatre On Broadway To Great Buzz And Strong Box Office, Starring Christian Borle As Willy Wonka
---
Fresh from London, Willy Wonka Sings on Broadway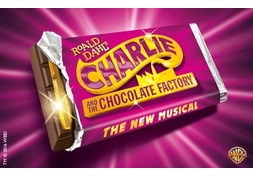 On March 28, 2017, Charlie and the Chocolate Factory began previews at the Lunt-Fontanne Theatre. The musical is scheduled to officially open on April 23, 2017. Starring in the role of Willy Wonka is Christian Borle, the two-time Tony Award winning actor who graced the stages of as William Shakespeare in Something Rotten!, and Black Stache (a Captain Hook like character) in Peter and the Starcatcher. He is now taking on another iconic role in Willy Wonka. This musical is written by David Greig based on the novel by Roald Dahl, with music by Marc Shaiman, and lyrics by Shaiman and Scott Wittman.
This duo also wrote the music for Catch Me if You Can, Hairspray, and Martin Short: Fame Becomes Me. David Greig developed this work in London along with director Sam Mendes, who helmed the original production in the West End at the Theatre Royal, Drury Lane. In that production, Douglas Hodge took on the role of Willy Wonka.
Experienced Crew Lead the Broadway Production
The Broadway production is directed by Jack O'Brien, and Mendes stays on as producer along with Warner Bros. Theatre Ventures and Kevin McCormick. Jack O'Brien has previously directed a multitude of shows on Broadway including The Front Page, It's Only a Play, Macbeth, The Nance, Dead Accounts, and Catch Me If You Can. The choreographer, Joshua Bergasse, has credits such as Gigi, On the Town, and Hairspray.
Christian Borle Leads a Large Ensemble Cast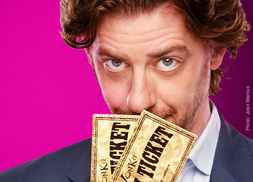 In the London production, the roles of all the children admitted into Willy Wonka's candy factory are played by children. However, one of the innovations introduced by Jack O'Brien for the Broadway productions was that four of these five children – all except the young lead, Charlie Bucket – are played by young adult actors. Charlie Bucket is played on alternating nights by three promising young talents named Jake Ryan Flynn, Ryan Foust, and Ryan Sell. As for the other four characters, they are child characters embodied by 20- and 30-something year-old actors.
Christian Borle explained one benefit of this casting choice: that he can heap abuse on them in a way that would be impossible with children. The role of Violet Beauregarde is played by Trista Dollison (A Bronx Tale the Musical, The Lion King), the role of Augustus Gloop is played by F. Michael Haynie (Holler if Ya Hear Me, Wicked), the role of Veruca Salt is played by Emma Pfaeffle (Finding Neverland), and the role of Mike Teavee is played by Michael Wartella (Tuck Everlasting, Wicked). The parents are played by Alan H. Green, Kathy Fitzgerald, Ben Crawford, and Jackie Hoffman, and Charlie's Grandpa Joe is played by John Rubenstein.
Great First Week at the Box Office
In the show's first partial week of six preview performances, Charlie and the Chocolate Factory brought in an impressive first week's gross of $993,783, which represents 95.3% of its gross potential. With a top ticket price of $233, the average paid admission was $110.72, and the audience was filled up to 100.0%. This is a very promising jump start for this new musical, which comes off of a well-received London run, and has the benefit of an extremely well-known source material, which became a beloved household treasure through the 1971 feature film Willy Wonka and the Chocolate Factory, starring Gene Wilder in an unforgettable performance.
Given the recent passing of Gene Wilder, the nostalgia for this classic tale is at a peak, and the reliable comedic genius of Christian Borle has a large built-in audience of Broadway fans who have seen him in a range of recent hits. The show will officially open on April 23, 2017, and is currently scheduled for an open-ended run.