Broadway's Richard Rodgers Theatre Gets $3.5 Million Renovation
Richard Rodgers Theatre On Broadway Undergoes $3.5 Million Dollar Renovations, Restoring Its Historic Charm For 'Romeo And Juliet' Starring Orlando Bloom & Condola Rashad
---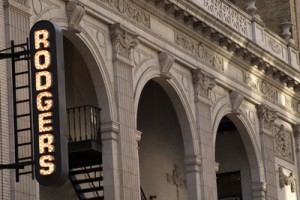 Broadway Theatre Undergoes Renovations for "Romeo and Juliet"
The Richard Rodgers Theatre, located on 46th Street between 7th and 8th avenues, has undergone significant renovations in preparation for its latest tenant, the new Broadway production of William Shakespeare's tragedy Romeo and Juliet starring Orlando Bloom and Condola Rashad. The renovation project came in at $3.5 million and was done under the supervision of EverGreene Architectural Arts.
Restorers removed numerous coats of paint from the theater, bringing it back to its original color palette (the Richard Rodgers was built in 1925 and opened under the name Chanin's 46th Street Theatre). In addition, a pair of murals were installed in the stage wall, and gold leaf has been added in various parts of the theater. All of the theater's seats were replaced with new ones, and, perhaps most notable for Broadway fans, the restrooms have been expanded.
Discount Broadway Tickets
---
---