Broadway's First Date Auctions Items for Operation Smile
The Popular Broadway Musical First Date Is Holding An Auction Of Interesting Items From The Show To Raise Money For The Charity Operation Smile
---
Broadway Musical "First Date" Raising Money For Charity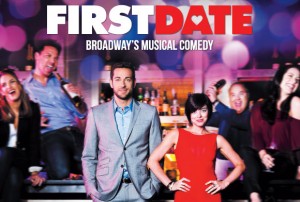 Fans of the new Broadway musical comedy First Date can get some interesting items from the show online right now as it is in the midst of holding an auction on eBay.
The auction is raising money for the charity Operation Smile, while helps children all over the world who suffer from cleft lip and cleft palate, along with other facial deformities, by providing surgeries to correct these problems.
Items Up For Sale
There are a number of items up for sale in the First Date auction, including a wig, scarf, silver boots, leg warmers, sweater, Diane Von Furstenber​g dress, pink jacket, go-go boots, and a men's troubadour hat, all directly from the First Date wardrobe department.
A First Date script that has been signed by the show's writers, as well as a CD of the musical that has been signed by its cast are also on the auction block. Two tickets to the show, plus a dinner, meet & greet, and backstage tour are also be auctioned off. One of the most unique items being offered is a personalized song written by Bryce Ryness.
"First Date" Stars
A recurring gag in First Date features actor Kristoffer Cusick as "Reggie" leaving voicemail messages for his friend - a personalized message from Cusick as Reggie is also one of the items available for auction. First Date stars Krysta Rodriguez (The Addams Family) and Zachary Levi (TV's Chuck) as two very different types of New Yorkers who are set up on a blind date that becomes a bit of a circus as their friends, families, and dating pasts come to terrorize them as they try to get to know one another over dinner.
Zachary Levi has been an ambassador for Operation Smile for some time, so this cause is near to the actor's heart. Go to FirstDateAuction.com to see the auction listings and to bid on an item. The First Date items that are currently up for auction are scheduled to conclude taking bids on Friday, October 25.