Broadway's Big Fish Closes Today
---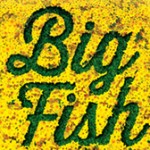 Broadway will say goodbye to a number of shows as the holiday season comes to a close. Broadway shows that have been struggling to maintain an audience frequently set their closing dates for early January, taking advantage of the final burst of holiday ticket sales before the bleak winter months in which Broadway struggles the most. However,
Big Fish
, which ends its run at the Neil Simon Theatre today, is concluding a bit earlier, closing its production before New Year's Day. Based on the book and film of the same name,
Big Fish
starred Norbert Leo Butz as a big dreaming traveling salesman who loved to tell tall tales. With a heart-tugging father-and-son story and big, bold set and costume designs,
Big Fish
captured many theatergoers' imaginations, but unfortunately not enough to continue running. The musical will close having played 34 previews and just under 100 regular performances.