Broadway Spring Box Office Carries On Strong
The Boys in the Band started out strong, leading the box office along with Springsteen on Broadway, in an overall strong week this spring season.
---
"The Boys in the Band" Performs Excellently Out of the Gate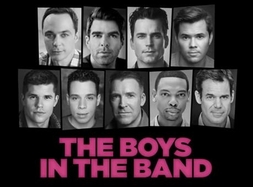 This past week, the week ending May 6, 2018, the Broadway box office continued on a high note. The most impressive figure was the weekly gross earned by the newly begun production of The Boys in the Band, the Broadway premiere of Mart Crowley's 1968 play with an all-star, all-gay cast. In its first week of eight preview performances, the show brought in $1,008,097, which represents 105.3% of its gross potential. This is an especially impressive figure for a "straight" play, as opposed to a musical, in its first week of performances before any reviews have come out. Given that the show will not open until May 31, 2018, it will not be eligible for this year's Tony Awards, but will need to wait until 2019 for consideration. Nevertheless, this first week has demonstrated that it will not need an awards boost in order to attract an audience. With a top ticket price of $348, the average paid admission this past week was $167.51, and the audience was filled up to 97.2% of its capacity on average. This production, directed by Joe Mantello, has an exciting cast led by Jim Parsons (An Act of God, Harvey, The Normal Heart), Zachary Quinto (The Glass Menagerie), Matt Bomer ("The Normal Heart" on HBO), Andrew Rannells (The Book of Mormon, Falsettos, Hedwig and the Angry Inch, "Girls"), Charlie Carver ("Desperate Housewives," "The Leftovers"), Robin De Jesús (Rent, La Cage aux Folles), Brian Hutchison (Man and Boy, Looped), Michael Benjamin Washington (La Cage aux Folles, Mamma Mia!), and Tuc Watkins ("Desperate Housewives").
Springsteen is Back, SpongeBob is Still Barely Afloat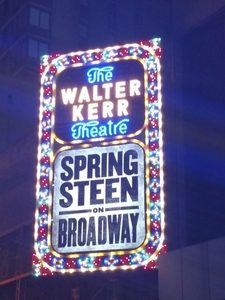 In addition to the boost seen this past week by the start of performances of The Boys in the Band, an even bigger boost was seen by the return of Springsteen on Broadway, which was on hiatus the previous week. This past week, the Boss brought in $1,928,605 over 4 performances, representing 101.1% of its gross potential. In addition, The Iceman Cometh went up by $283,741 to reach a weekly gross of $1,108,336, Hamilton went up by $278,024 to reach a weekly gross of $3,101,303, Harry Potter and the Cursed Child went up by $218,826 to reach a weekly gross of $2,104,905, and Travesties went up by $115,079 to reach a weekly gross of $378,743. On the flipside, even though SpongeBob SquarePants tied for the most Tony Award nominations as announced this past week, that show is still struggling at the box office. This past week, the show went up by just $22,434 to reach a weekly gross of $565,662, or 39.9% of its gross potential. Despite the strong accolades and now awards recognition, there is something stopping ticketbuyers from flooding the box office about this new musical, based off an animated television show about a sponge who wears shorts. Overall, the box office was strong this week. With 36 shows running, the collective weekly box office was $36,994,030, which is an increase of $2,397,045 from the week before.