Broadway Sings For Toys on December 16
The 8th Annual Broadway Sings For Toys: A Benefit For Toys For Tots Will Feature The Broadway Boys And Other Tony Award Winners
---
8th Annual Broadway Sings For Toys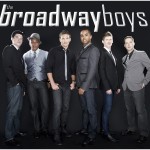 The 8th Annual Broadway Sings for Toys: A Benefit for Toys for Tots comes to The Cutting Room on December 16 at 7pm. The event is hosted by The Broadway Boys, who include Daniel Torres, Travis Morin, Jesse Nager, Brad Greer, John Michael Dias, Gabe Violett, and Zal Owen.
In addition to The Broadway Boys, other artists scheduled to perform at the benefit concert include a slew of Tony winners, such as Lillias White, Chuck Cooper, and Adriane Lenox (dueting with her daughter). Nick Adams, Charl Brown, Morgan James, Crystal Monee Hall, Ryan Shaw, Jessica Philips, and Marva Hicks will also appear.
Ticket Information
Tickets are $20, and attendees are also asked to bring and unwrapped toy. Call 212-691-1900 or go to www.thecuttingroom.com to get tickets and find more information. The Cutting Room is located at 44 East 32nd Street.