Broadway Show Ticket Sales Analysis w/e 9/28/2014
In The Week Ending September 28, 2014, On The Town And Love Letters Are Both Struggling To Attract Audience Members To Their Theatres.
---
"On The Town" Demonstrating Limited Promise
Last week, On The Town began its run with just one performance, so it was too early to tell whether this ambitious old-fashioned revival would perform well out of the gate. Unfortunately, in its first full week of eight performances, On The Town still only grossed 29.19% of its gross potential. In the week ending September 28, 2014, the show brought in $518,116.
Still, it managed to fill 70.0% of the 14,992 seats across the eight performances, which is testament to heavy discounting. Nevertheless, On The Town does have the apparent victory of increasing its gross the most from last week out of any show: it increased by $414,530, which was higher than all the other shows in terms of increase. However this number is artificially inflated because the show only played one performance last week.
New Show This Week: "Disgraced"
The Pulitzer Prize winning played Disgraced has begun performances this past week. Ayad Akhtar's drama about Islamophobia and race in contemporary society transferred to the Lyceum after a successful run at Lincoln Center's Off-Broadway Claire Tow Theatre through the LCT3 program for new writing.
In its first week of only two performances, the show grossed $100,824, which represents 50.33% of its gross potential. Time will tell whether audiences take to this unusually themed play on the Great White Way.
"Love Letters" Struggling Despite Star Cast
A.R. Gurney's two-hander Love Letters began its revival at the Brooks Atkinson Theatre last week, but even in its first full week of eight performances, it was the lowest performing show on Broadway in terms of percentage of gross potential. With a weekly gross of $178,812, it only brought in 20.15% of its potential, filling only 39.3% of the seats across the eight performances. This must have been quite disappointing for the two stars – Brian Dennehy and Mia Farrow – who are used to attracting a lot of attention.
Dennehy in particular is a huge Broadway star, whose most famous success was his lead performance in Death of a Salesman. Fortunately, the duo will not need to withstand the empty audiences for long, as first Farrow and then Dennehy will switch out to be replaced with a rotating cast of stars. Hopefully word of mouth will pick up as the run progresses.
The following are the Broadway ticket sales numbers for the week ending September 27, 2014: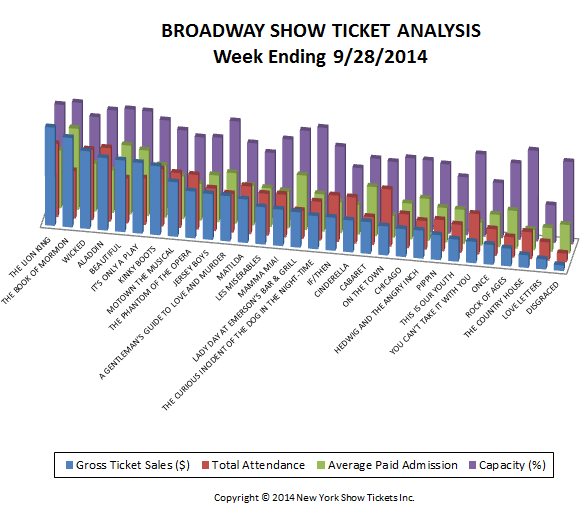 | | | | | |
| --- | --- | --- | --- | --- |
| Show | GrossGross | Total Attn | %Cap | AvgPdAdm |
| A GENTLEMAN'S GUIDE TO LOVE AND MURDER | $807,444 | 7,093 | 97.75% | $113.84 |
| ALADDIN | $1,293,112 | 13,504 | 97.97% | $95.76 |
| BEAUTIFUL | $1,278,681 | 8,250 | 100.51% | $154.99 |
| CABARET | $566,136 | 5,117 | 71.63% | $110.64 |
| CHICAGO | $498,324 | 6,185 | 75.38% | $80.57 |
| CINDERELLA | $568,115 | 8,438 | 60.24% | $67.33 |
| DISGRACED | $100,824 | 1,583 | 86.22% | $63.69 |
| HEDWIG AND THE ANGRY INCH | $498,220 | 5,271 | 74.78% | $94.52 |
| IF/THEN | $590,185 | 8,493 | 80.98% | $69.49 |
| IT'S ONLY A PLAY | $1,261,025 | 8,554 | 100.02% | $147.42 |
| JERSEY BOYS | $817,139 | 7,770 | 79.09% | $105.17 |
| KINKY BOOTS | $1,230,190 | 10,522 | 92.36% | $116.92 |
| LADY DAY AT EMERSON'S BAR & GRILL | $630,847 | 5,151 | 94.41% | $122.47 |
| LES MISÉRABLES | $665,663 | 7,670 | 68.04% | $86.79 |
| LOVE LETTERS | $178,812 | 3,360 | 39.33% | $53.22 |
| MAMMA MIA! | $649,855 | 7,804 | 83.66% | $83.27 |
| MATILDA | $776,248 | 8,761 | 76.48% | $88.60 |
| MOTOWN THE MUSICAL | $972,330 | 10,063 | 83.47% | $96.62 |
| ON THE TOWN | $518,116 | 10,494 | 70.00% | $49.37 |
| ONCE | $355,062 | 4,887 | 57.68% | $72.65 |
| PIPPIN | $444,549 | 5,728 | 72.32% | $77.61 |
| ROCK OF AGES | $315,948 | 3,720 | 79.76% | $84.93 |
| THE BOOK OF MORMON | $1,596,473 | 8,752 | 102.63% | $182.41 |
| THE COUNTRY HOUSE | $225,325 | 4,927 | 94.75% | $45.73 |
| THE CURIOUS INCIDENT OF THE DOG IN THE NIGHT-TIME | $590,727 | 7,065 | 99.14% | $83.61 |
| THE LION KING | $1,754,196 | 13,446 | 98.87% | $130.46 |
| THE PHANTOM OF THE OPERA | $834,859 | 9,996 | 77.85% | $83.52 |
| THIS IS OUR YOUTH | $395,194 | 5,140 | 60.56% | $76.89 |
| WICKED | $1,386,090 | 12,923 | 89.30% | $107.26 |
| YOU CAN'T TAKE IT WITH YOU | $381,328 | 7,384 | 86.02% | $51.64 |
| Totals: | $22,181,013 | 228,051 | 81.58% | $93.25 |
Broadway ticket sales raw data are provided courtesy of The Broadway League All other data, text, opinion, charts and commentary are copyright © 2014 nytix.com
Discount Broadway Tickets
---
---