Broadway Show Ticket Sales Analysis w/e 9/1/2013
Broadway's Weekly Ticket Sales Dipped Slightly, Let It Be Ends Its Short Run With Low Numbers, Struggling To Find An Audience And Filling The Theater At Just Half Of The Capacity

---
Tiny Dip in Broadway Revenue This Week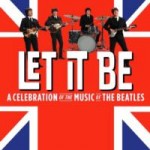 The overall ticket sales numbers for Broadway shows went down this week, but only by a small amount. While the previous week's total ticket revenue came in at $20,604,711, this week's was a little over $100,000 lower at $20,496,640.
"Let It Be Goes" Out With Low Numbers
The Beatles tribute show Let It Be didn't last on Broadway long, ending its brief run this weekend. Originally scheduled for a limited engagement to run into December, the multimedia musical revue couldn't generate enough interest to last beyond the summer. In its closing week, the production earned a low average paid admission of $55.62, filling the theater to only 51.49% capacity.
The Following are the Broadway Ticket Sales Numbers from the Week Ending September 1, 2013: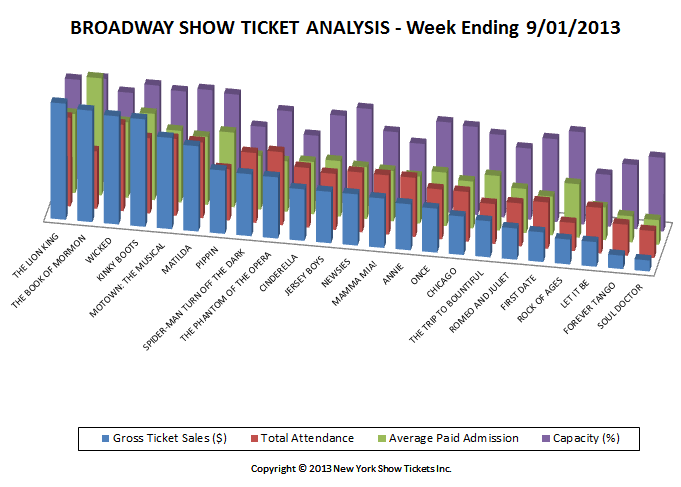 | | | | | |
| --- | --- | --- | --- | --- |
| Show Name | GrossGross | TotalAttn | %Cap | AvgPdAdm |
| ANNIE | $720,823 | 9,003 | 65.89% | $80.06 |
| CHICAGO | $602,100 | 7,556 | 87.45% | $79.69 |
| CINDERELLA | $806,878 | 9,065 | 64.71% | $89.01 |
| FIRST DATE | $464,602 | 7,037 | 82.28% | $66.02 |
| FOREVER TANGO | $210,053 | 4,724 | 63.63% | $44.47 |
| JERSEY BOYS | $804,982 | 8,523 | 86.76% | $94.45 |
| KINKY BOOTS | $1,683,060 | 11,458 | 100.58% | $146.89 |
| LET IT BE | $385,586 | 6,933 | 51.49% | $55.62 |
| MAMMA MIA! | $773,583 | 9,019 | 75.26% | $85.77 |
| MATILDA | $1,335,417 | 11,540 | 100.73% | $115.72 |
| MOTOWN: THE MUSICAL | $1,428,092 | 11,708 | 97.11% | $121.98 |
| NEWSIES | $802,255 | 9,091 | 95.90% | $88.25 |
| ONCE | $688,789 | 7,586 | 89.54% | $90.80 |
| PIPPIN | $990,567 | 7,806 | 98.56% | $126.90 |
| ROCK OF AGES | $388,406 | 4,267 | 91.49% | $91.03 |
| ROMEO AND JULIET | $489,143 | 6,527 | 70.69% | $74.94 |
| SOUL DOCTOR | $171,977 | 4,108 | 73.15% | $41.86 |
| SPIDER-MAN TURN OFF THE DARK | $969,849 | 10,628 | 68.83% | $91.25 |
| THE BOOK OF MORMON | $1,745,146 | 8,752 | 102.63% | $199.40 |
| THE LION KING | $1,818,423 | 13,507 | 99.32% | $134.63 |
| THE PHANTOM OF THE OPERA | $958,454 | 11,124 | 86.64% | $86.16 |
| THE TRIP TO BOUNTIFUL | $565,669 | 6,081 | 81.72% | $93.02 |
| WICKED | $1,692,789 | 13,169 | 91.00% | $128.54 |
| Totals: | $20,496,640 | 199,212 | 83.71% | $96.80 |
Broadway ticket sales raw data are provided courtesy of The Broadway League All other data, text, opinion, charts and commentary are copyright © 2012 nytix.com